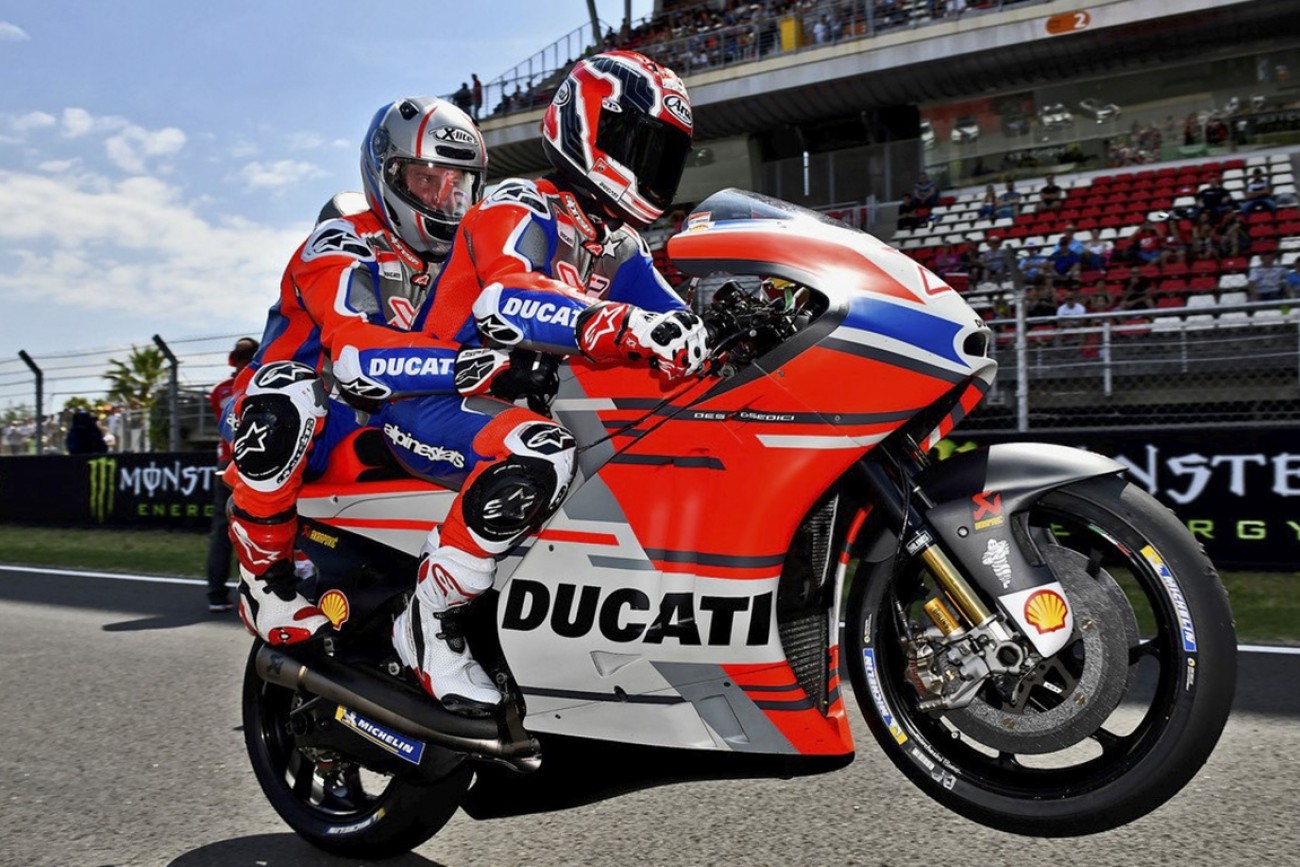 Features
NASCAR's Kurt Busch Went Riding On The Back Of A MotoGP Bike
Recently, Kurt Busch boarded a large commercial airliner and rock-and-rolled over to Spain and the Circuit de Barcelona-Catalunya to scope out the Gran Premi Monster Energy de Catalunya. There, he was faced with a proposition: Would he be willing to throw a leg over and onto the back of the Ducati WDW2014 Two-Seater Desmosedici MotoGP bike with certified MotoGP legend Randy Mamola?
Yeah, climbing into the jaws of a 3,500-pound, 750-horsepower Monster Energy NASCAR Cup Series race car and being strapped into a six-point harness and protected by a roll bar, custom-made seat and window nets, and going 200 miles per hour within inches of ominous concrete retaining walls is one thing, but hopping aboard a 1000cc V4 346-pound Ducati race bike and going 218 miles an hour with nothing more than the balls of your feet and your two hands keeping you affixed to a flying projectile is a whole different kind of fear and bravado.
How was it for the former NASCAR Cup Champion? We'll let him tell you.
Exhaust: Kurt, word has it you climbed on back of the Ducati Two-Seater Desmosedici MotoGP back at Catalunya MotoGP World Championship race. What in the hell was that like for you?
Kurt Busch: (Laughs) It was insane. Oh my goodness.
Did someone have to talk you into getting on the bike with Randy Mamola?
Oh, no. No, they didn't have to talk me into it. I'm not sure where the surprise came from, but let's just say the Monster family helped hook it up.
What were you thinking right before you got on the bike for your hot lap?
My first thoughts were, I've never been over 100 miles per hour on a bike and I'm about ready to go 200 on a bike, so you may as well skip any of the astronaut training and just go straight to the moon.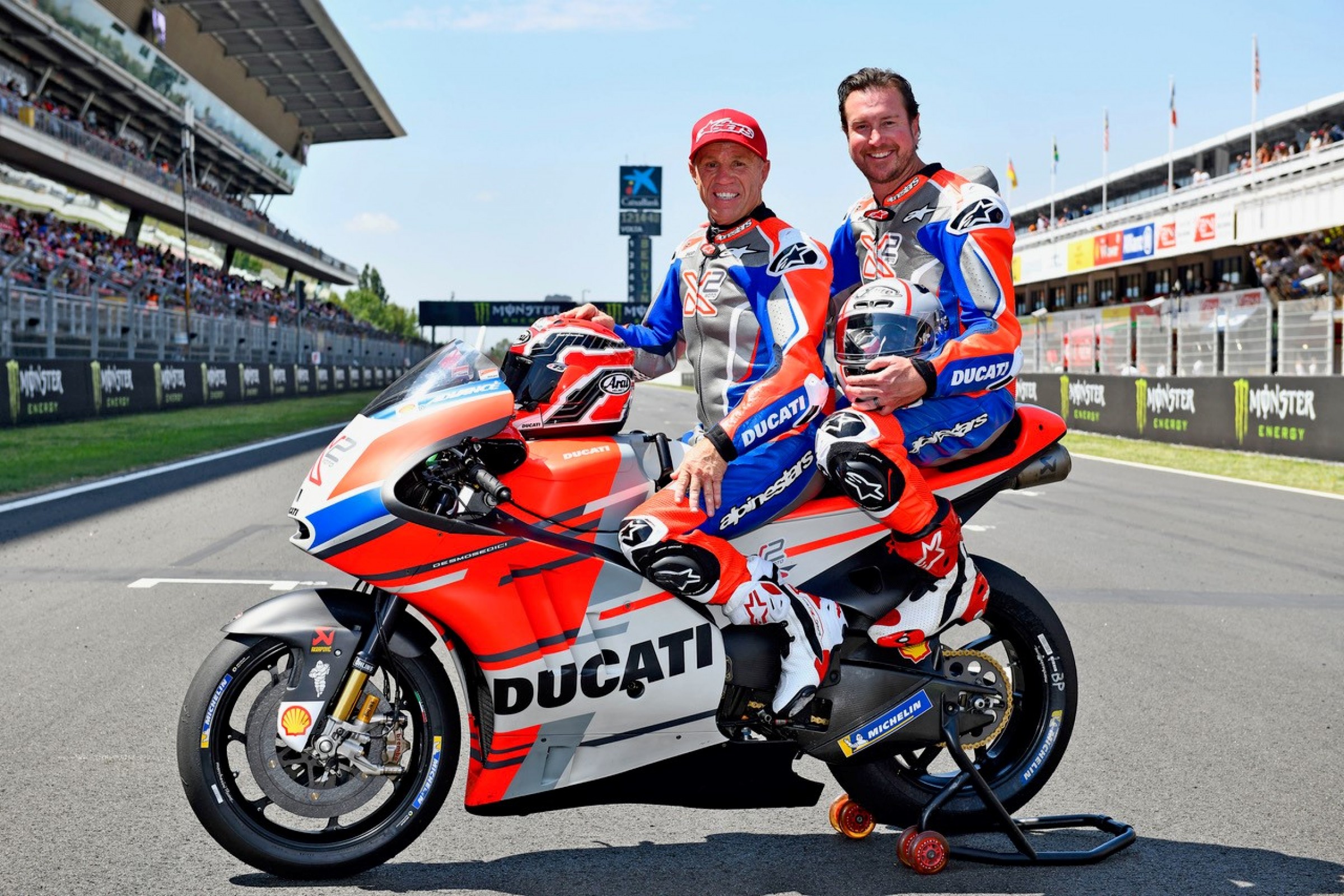 And the joy ride itself?
It was insane to feel the acceleration and the deceleration. The deceleration was the biggest surprise of all and how to hang onto the bike under deceleration and to keep my balance straight forward. Trusting Randy to go around the track was no problem. The braking was incredible, and so was the speed we carried through the corners. I stayed very nervous and straight and upright the first few corners, and then I lost track of which corner we were in. I didn't like that feeling whatsoever—of losing track of what corner I was in. But then I had to get rid of that feeling and tell myself, "This is only one lap, and you've got to enjoy this and you've got sort this through." When I started to just think about where I was on track, that helped me start to ease up and I wasn't as tense, and then I really started to lean in with Randy through the corners and at that time was when I picked up where I was on-track. Wow, what a magnificent ride. I've never had my helmet that close to the candy stripes.
Yeah, when I rode on the back with Randy at Valencia back in 2002, I thought my shoulders were going to auger into the curbing around the circuit. I mean, I felt like I was in a washing machine.
I loved it. I loved having the tires over to my left and to my right and my head was hanging over the curbing and hanging over the edge into the grass. I was like, "This is what it's about; now I'm feeling it, now I have a cornering experience." From there, I started leaning as far as I could to get over the bike, and I think that gave Randy a greater sense of my comfort level. By the end of that first lap, coming down the front straightaway and getting on the brakes to conclude the Ducati Two-Seater experience, the deceleration made me feel like I was doing pushups with four people on top of my legs. That's where you really have to have that upper-body strength and that core strength. You have to have everything when you're in that seat because you don't have a roll cage, you don't have anything to relax with, and you really have to be one with the bike. It all really blew me away. I didn't know what to expect just because of my limited time on two wheels. It was all, absolutely, one of the most insane motorsports experiences that one that one could go and find.
Afterwards, I told Randy, "Dude, if you would have grabbed any extra of that brake lever, I was going over your shoulders, man! Every bit of my energy was in my hands grasped to the handles on your gas tank." Randy said to me, "You did good, man, but you were right on edge." Then I said, "Well, you put me on edge! It was your fault!" Randy said, 'Well, I couldn't back up, I was going to take you on the best ride possible!" It was all a feeling of newness and an experience that I hadn't had in a long time in motorsport. I didn't know what I was getting into; I just wanted to go fast. It was awesome.
Did you get to meet any of the MotoGP racers while you were over there?
I got to see Jorge Lorenzo and Valentino Rossi and Maverick Vinales. It was great to have the access through Monster Energy, and they got me to the podium area and I was able to give a high-five to Rossi for his third-place finish. I was also able to give a shout-out to Lorenzo after he won. It was great to experience it all.
Downshifting back to your day job, what's your take on your 2018 MENCS season thus far?
It's been solid. This year has been solid with a couple poles at the fast tracks like Texas and Michigan. With the consistency that the car has had with the new group of guys I have working with me, that's a great segue into the second half of the year. Now we need to capitalize on the speed that we've had and make sure that we're making the right calls in the pits and then delivering solid pit stops. At the 600 a couple weeks ago, we had a really good car and just struggled the first half of the race with consistency on pit road and just had to keep digging out of those holes to finish in the top ten. You have to have all categories down and have to be strong everywhere. I'm happy with the season so far, but we all want a little bit more. That's our incentive: to keep pushing and going and developing the setup that we need for the Playoff races for later on this year. Any race coming up now, that's where we really need to make sure we dial it in.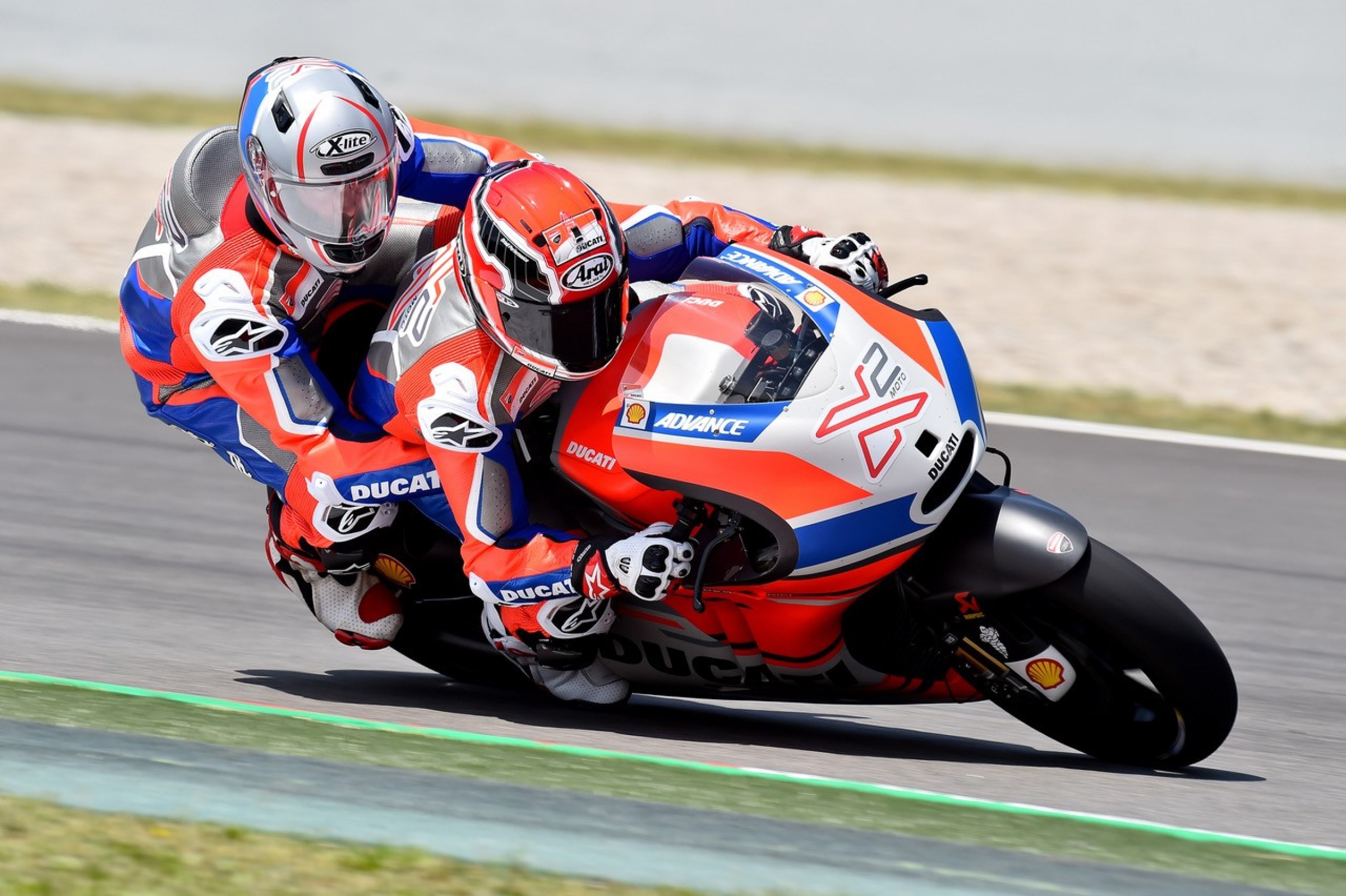 You have remarked that a win was just around the corner for you and the #41 Stewart-Haas Racing Ford. Are you holding fast to that prediction?
Yes. We're close, but we can't expect it to happen. We have to continue to put ourselves in position for good things to happen. We're real close.
Did you expect your Ford to be a great as it has been this summer?
I'm very happy with the Fords. Did we expect them to be this good? I guess now that we're halfway through the season, I can see why we are as good as we are because we had so many questions last year with the team's switchover from General Motors to Ford. Those questions circled around the aerodynamics of the car and they circled around the engine power levels. When you have a season to work on it—as well as an off-season to digest it all—and then can apply it all to an area to improve everything, that's what you're seeing with Stewart-Hass' power this year. We just had an off-season to work on all the areas and that gave us time to do such things.
As you just alluded to, the Playoffs are looming out there in the not-too-distant future. All things considered right now, are you and the team where you want to be as far as momentum and staying to the MENC championship plot?
Yeah, I like the way these next few races came at us with the road course at Sonoma; we've got Chicago, one of my favorite mile-and-a-half tracks; Daytona is coming, which is a restrictor plate track that we've run really, really solid on. I really like this time of the year, and there is always that saying in NASCAR, "Don't peak too early." Maybe some of these guys that keep winning all these races will leave some chips out on the table.