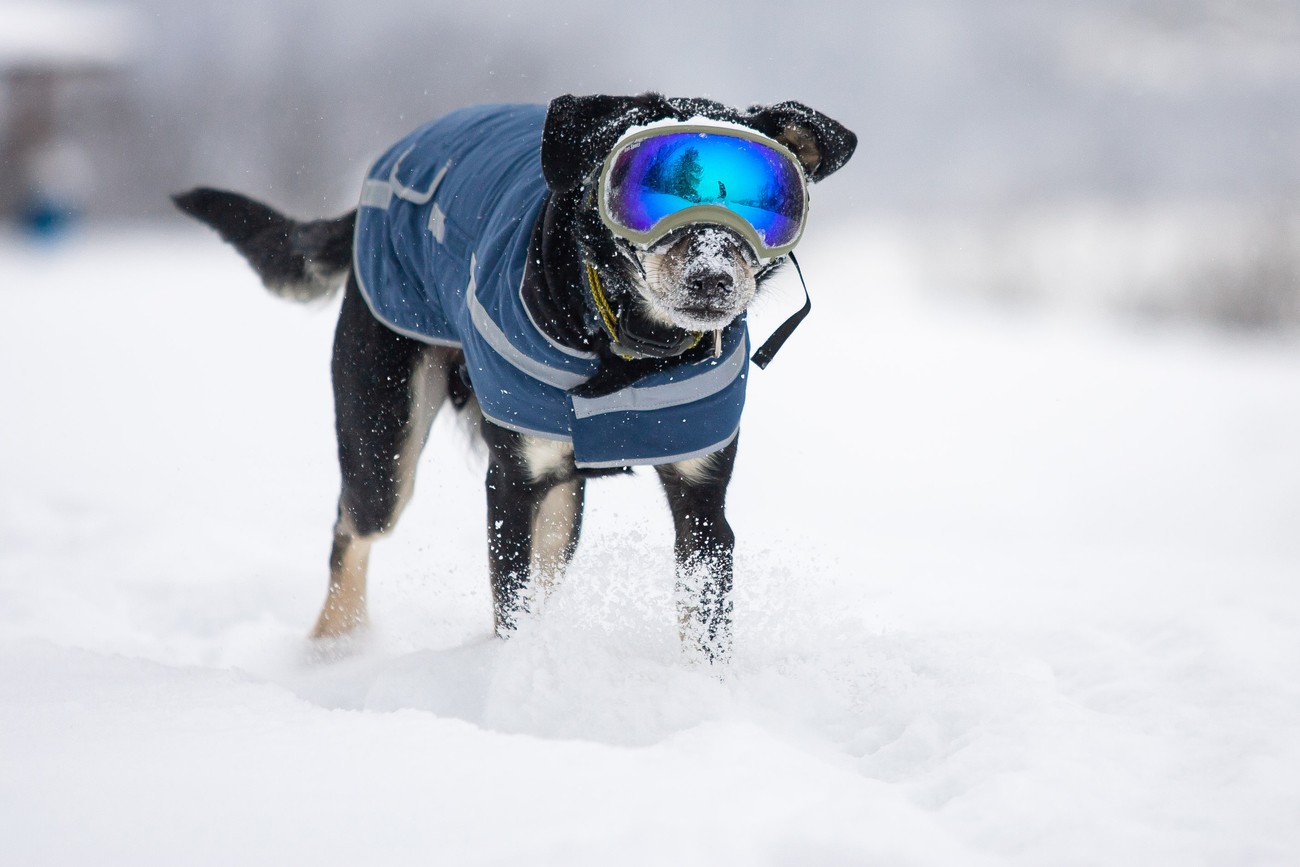 Features
Eyewear Protection … FOR YOUR DOG
Yes, you read the title correctly: there is a company out there that makes premium eyewear protection for your furry friends. Now you may be thinking, Why on earth would I need goggles for my dog? Well, just like human eyes, dogs' eyes are easily damaged by too much exposure to the sun, dust, dirt, and other debris. Rex Specs are perfect for protecting dogs' eyes from adverse weather conditions, UV rays on mountain hikes, or simple walks; debris, bugs, and wind during sidecar rides; and punctures from sticks and thorns while chasing birds and squirrels.
Rex Specs reached out to us a while back asking if we wanted a pair to test and review. Naturally, the dog owner that I am, I had to jump on this opportunity to see how my good boy would perform in "extreme" conditions backed by the protection of Rex Specs.
Funny story: I was talking to one of my good friends, who is now deployed overseas with the 75th Ranger Regiment-3rd Battalion, about how this company had reached out to us. He said, "Oh, yeah, some of our K-9s wear them, especially on helicopter rides for protection with all the debris."
I chose my colors (yes, they have multiple options for frame and lens colors) and measured my dogs head and muzzle to determine the right size. If you're unsure how to get these measurements, their site has a great video that clearly explains how to do it. Once my order was in, my package arrived shortly after. The box even had this awesome message on the back: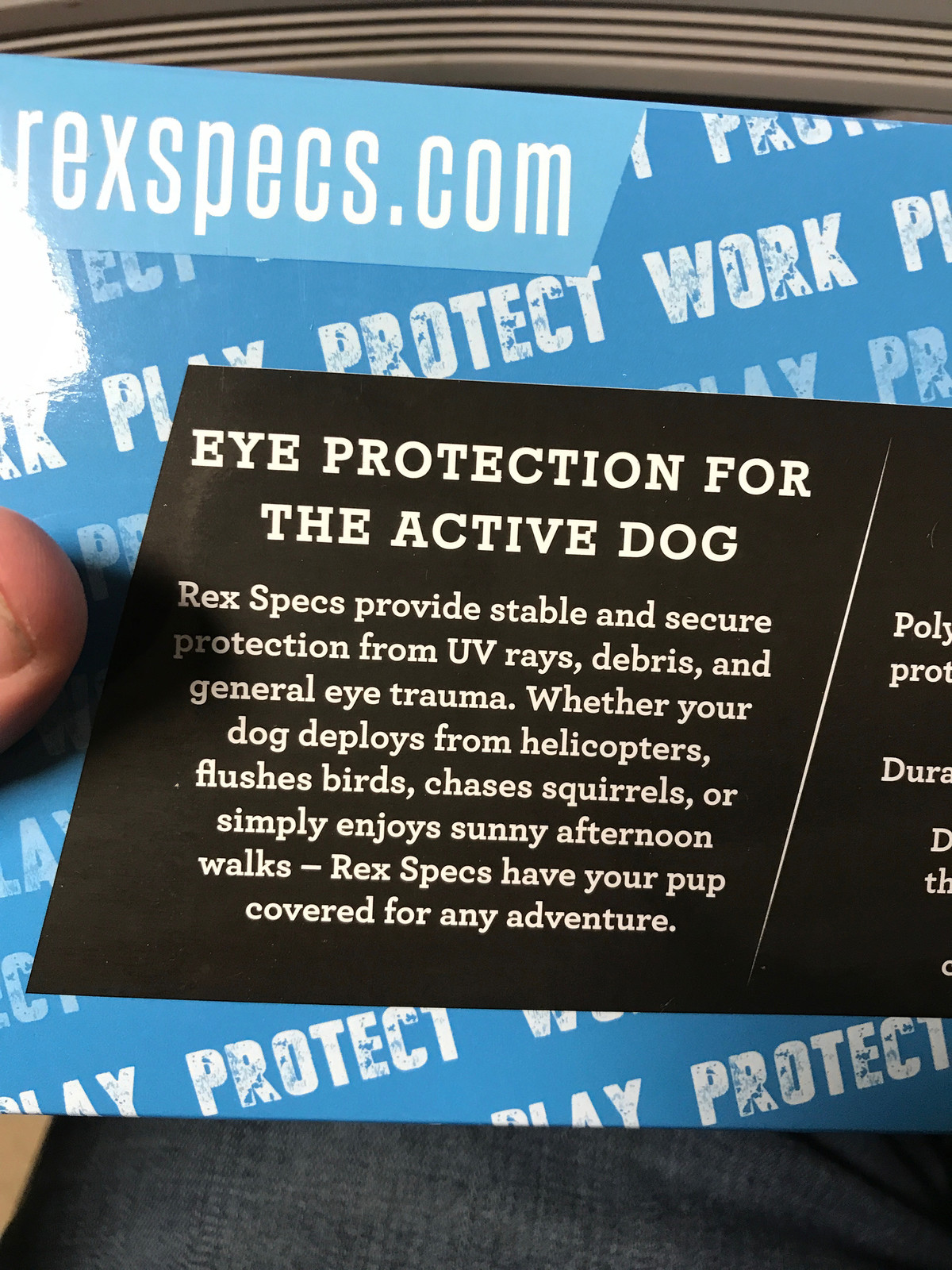 My first thought was, Holy shit, these are badass! My next thought was, How the hell do they go on his face? Luckily, Rex Specs has plenty of other tutorials that show you the best way to outfit your good boys/girls. The package itself came with instructions saying the best way to get your dog comfortable with wearing the goggles was to first remove the lens (simple, just like removing moto lenses) and put the empty frames on your dog first. That gets them used to having something on their face with no difference in vision. Once the frames were on, we walked around the house and played with some toys to get him nice and comfortable. After about 20 or 30 minutes, I made the executive decision to install the lenses and repeat. At first, the subject was a little weary, as he was still trying to figure out what was on his face (I'm sure it didn't help that he had the mirrored lenses on inside the house. And it was dark outside). But after a few 20- to 30-minunte sessions for a few days, he became more comfortable with them.
Now for the test.
Being as our headquarters are in West Virginia, our weather is about as predictable as the next ridiculous thing Weege is going to do. So we had to wait for the perfect time. Then it happened. The weatherman was calling for 6-8" of fresh pow and blizzard-like conditions (not really). Only about a fraction of our in-office staff was able to make it to work due to the wonderful West Virginia road service, so this was the perfect time go out and see how the goggles performed. We strapped on our coat, whipped off the goggles, and headed out to our test location. Once out in the snow, he was able to run and frolic freely with no hesitation. He even stuck his face in the snow to see what was down there since he had the goggles on. We played some fetch, ran around, and got all snow-covered. Then we decided to call it day, as the brisk 15-degree temperatures were starting to affect our subject's performance.
All in all, these are an awesome product and are perfect for protecting your adventurous and extreme furry friends. They come in X-Small, Small, Small-Wide, Medium, Large, and X-Large and in numerous frame and lens color combinations. 10/10, good pups would recommend.
---
Images: Freddy Rentals