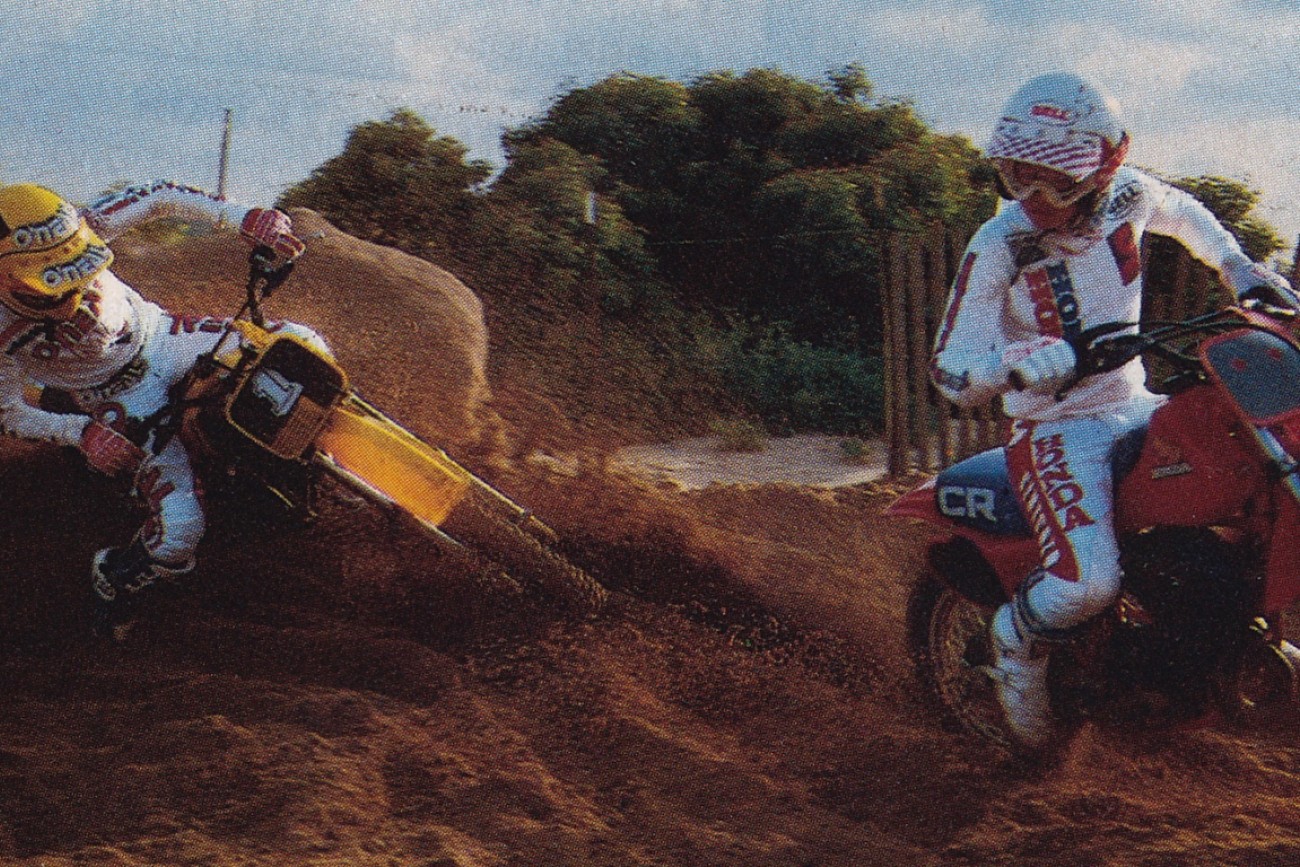 Features
Matthes is Mad Because We Won't Publish His Story
I've been asked a thousand times, but I am sorry, I can't control Steve Matthes' urges. If he wants to hate on amateurs getting paid, he's gonna hate. If he wants to eat Cheezies, he's gonna eat Cheezies. If he's gonna piss off Jason Anderson, it's gonna happen. Steve's gonna Steve!
Sometimes Steve gets a glimmer of free time and goes down the industry rabbit hole known as the Cycle News archives. He emerges like a rabid Basset eating cargo shorts. His latest masterpiece? An in-depth story on Eddie Hicks, known within some industry circles as the fastest minicycle racer ever, yet someone who never really made it as a pro.
Matthes has spent two months pouring his heart and soul over this Eddie Hicks project, tracking down multiple sources who witnessed him in his 80cc prime. At the Glendale SX, Steve was more into talking to Kyle Lewis about some rando 1983 CMC Golden State 80cc race than he was the actual main event.
The problem? Steve's story is TOO GOOD!
It's 5,000 words, it has great quotes and answers a ton of questions about what minicycle racing and factory rides were like generations ago. It serves as a tragic and cautionary tale, too. We're not going to waste it as a quick RacerXOnline.com feature, taking two months of Steve's hard work and a lifetime for Eddie Hicks and covering it up, an hour later, with this week's How To Watch: Arlington, which is just a freaking TV schedule, basically.
This needs to be a magazine feature in glossy print, or a longform feature.
It needs to be something special. But Matthes does not want to wait! He wants this story to run right here, right now.
Now, I present to you, yesterday's phone text convo between Matthes, myself, and Chase Stallo.
Matthes:
When is Hicks story running????
Chase Stallo:
never.
It sucked
Weege:
All that work for nothing
Matthes:
So much jelly in those two texts
Chase Stallo:
?
Deciding what to do with it. I think it could be a mag feature or longform
Weege still needs to read
Matthes:
Not mag. Too long
Chase Stallo:
Could be longform if we added a bit more
Matthes:
U told me u wanted this kind of stuff every now and then chase. Here u go. Run it
Chase Stallo:
yes. But why run it as a regular feature?
Matthes:
It's good. Weege never wanted me to do this anyways.
Chase Stallo:
hahahaha
Matthes:
He's not a supporter of a story on a random guy from 1984 for some reason
Just run it. The guy's on my ass to see it
Weege:
Damn wait I just read it. This is too good
Has Davey seen it?
Matthes:
He knew I was doing it but I HIGHLY doubt he read it
Weege:
True. No one wants to read your stuff.
Chase Stallo:
Its really good. Would hate to just waste it as a regular feature.
Weege
Same here, it needs to go somewhere more prominent
Matthes:
Stop it.
Run it this week and next. Bump back up.
Weege:
They will care more if we package it right, which is either longform or magazine
Chase Stallo:
agree. A good story is a good story.
Weege:
A-Mart and Phil aren't stars like McGrath, but your 11-10 longform was a big hit
Matthes:
Just run it. There are long-ass stories on the web all the time
It's not long enough for longform
Weege:
Never do we have stories with this many sources and quotes, plus this is an all-time story
Tell Eddie Hicks the last time he rushed it he got on a 125 Yamaha and ruined everything. Slow down.
Chase Stallo:
?
Matthes:
?
Weege:
BTW, after reading this, I love how the sport worked back then. "We gave you 4 races as a pro and you didn't even win one so you're on your own next year"
Matthes:
Yeah, so gnarly.
A lot of guys from the 80s have stories like that
Weege:
Privateers ranting have no idea how much harder it was to get and keep a ride when there were like 10 spots in the entire sport, both classes combined.
Matthes:
What's crazy is all the support as an amateur, all that money spent on the kid is just wasted
Like u invested in a stock for five years and just dumped it the first time it took a loss of $10 bucks
Just run it
Chase Stallo:
No.
Weege:
CHASE IS THE BOSS NOW, STEVE
Weege:
Nick Gaines on a 4-race deal with Traders? Where do they come up with this? Why 4?
Matthes:
Really? I thought he was off the team
Chase Stallo:
Texted Mark yesterday bc he was on entry list with Traders. Said 4-race deal
Matthes:
Like what's the cut off for Gaines? Lol. How do you determine what results mean he should stay on the team?
Weege:
Ask Eddie Hicks how it works. He'll know.
Matthes:
Seriously tho. Just post it
I'm putting it on Pulp
BOOM. MIC DROPPED
Weege:
What the eff Matthes, is someone holding a gun to your head
Chase Stallo:
HAHAHAHHAHAHAHAHA. NO ONE WILL READ IT
Weege:
Do you owe Hicks drug money?
Chase Stallo:
HAHAHAH
Matthes:
☹️
No I just want it out bro.
Weege:
Bullshit
Something is up
Matthes:
I swear. Nothing is up. I mean he's asking me, but that's not a big deal
Chase Stallo:
Let me talk with weege. Calm down
Matthes:
I cooked this turkey for weeks. It's ready to go
OPEN THE OVEN
Chase Stallo:
I wish I could block you from this text
Matthes:
BUT IT WAS EASY TO GET
OPEN THE OVEN
Chase Stallo:
GET OFF TWITTER
Weege:
THIS MEAL NEEDS HEAVY EDITING
Matthes:
LET THE BIRD OUT
FEED THE PEOPLE
GIVE THE PEOPLE WHAT THEY WANT
EDDIE HICKS
RELEASE THE HICKS
RELEASE THE HICKS
Chase Stallo:
New number? Who dis?
Matthes:
Eddie is sad
[Update]
Once we hit publish on this article, Steve continued his onslaught against us.
Matthes:

You guys fuc** Eddie and me
Hope you're happy.
Weege:
We are just trying to give ignite proper due
Chase:
?
Im dying. This is amazing