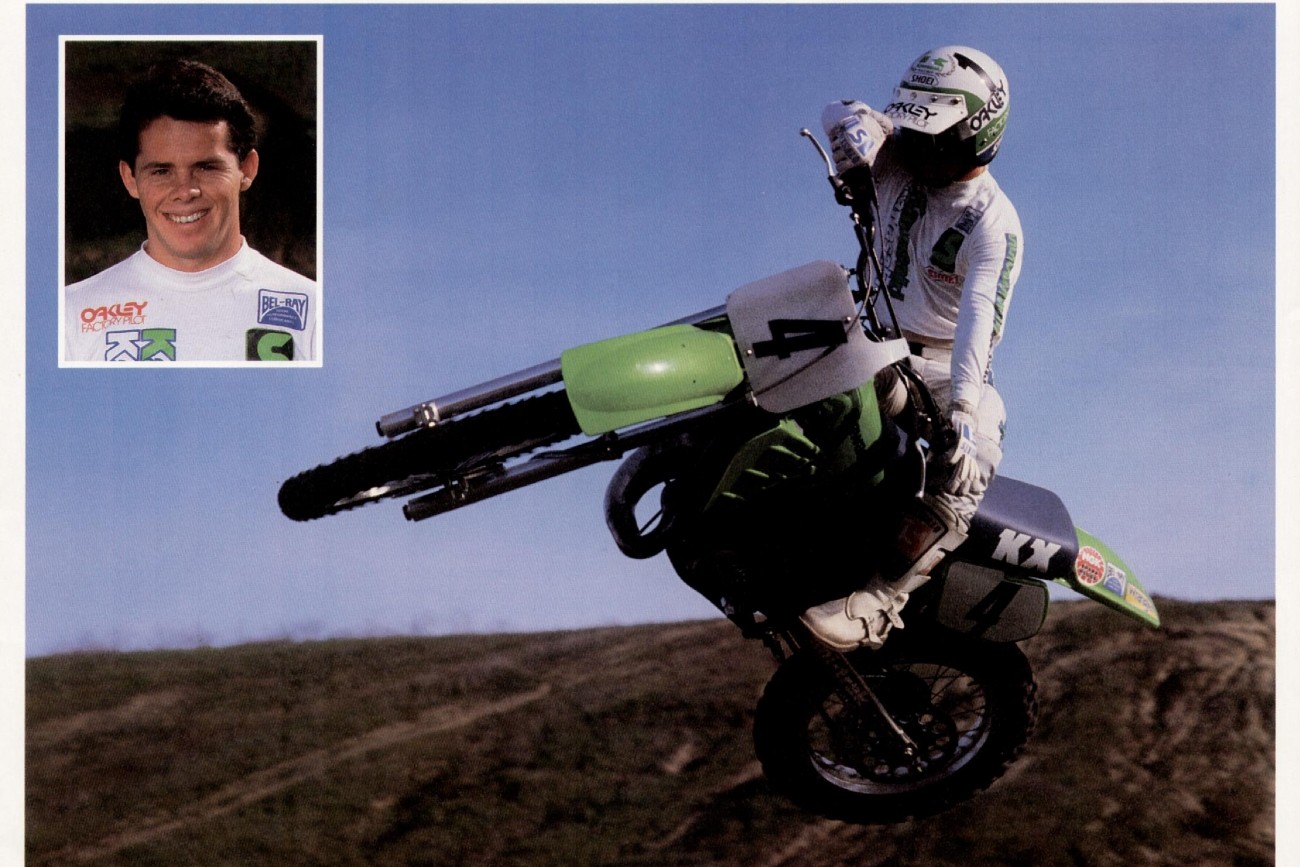 Features
Jeffs, Ranked
Every time the KTM Junior Supercross Championship goes out on the track, I like to look at the names of the kids and wonder what drugs their parents were on. I know we're in the age where everyone is a special butterfly and has to stand out, but some of the names of these kids are ridiculous. And, oh yeah, "Ryder" is the new "John," everyone, time to move on.
Hey, parents, want to have the next moto superstar? How about you just name your special angel Jeff? Yeah, I know it's not flashy (please don't do Geoff, either), but it'll work.
Want proof? I now present to you the most successful Jeffs in motocross history. Look at these names, people!
Coming soon to Exhaust, a very special list of Garys who killed it.
Jeff Ward
It was tough, but I have to give the edge to Wardy here as the best Jeff. I mean, he was amazing. He won a title in every single class, he was 7-0 at the the Motocross des Nations and he's still bicycling 100 miles a day. Wardy was a bad dude.
Jeff Stanton
Sorry, "Six-Time," you're second for maybe the first time in your life. Wardy's got seven national titles. Yeah, you raced a deeper field than Jeff for some of those, but Wardy also raced longer than you. Stanton brought home the win for Team USA at the Motocross des Nations twice and was the epitome of a pro. Either way, look in the dictionary under "man" and you'll see a photo of Jeff Stanton and Jeff Ward.
Jeff Emig
Yeah, wow, Fro's only third on this list. Well, are we cheating here because his real first name is "Cam?" The ruling from the judges is no, Fro's allowed to be a "Jeff." Emig's a multi-time MX champion and won a SX title as well. And he wore all black gear at Troy, Ohio, one year when it was a bajillion degrees outside.
Jeff Matiasevich
"Chicken" was pretty good. He won two 125SX titles, a 125MX national, a 250MX national, and a 450 supercross. Now, some might say he let off-track distractions creep into his life, but either way, he's got, like, real race wins. Chicken was also scoring top-ten finishes in 125SX in 1998, people! And he's still riding today.
Jeff Leisk
The Aussie MX legend wasn't here for long (1986-'88), but he was a Yamaha and Honda factory rider, he made podiums both indoors and out, and then went on to a great 500GP career. And he was in Motocross Action Magazine with a full-color crash photo where he was upside down. That counts, bro.
Jeff Hicks
As Bob Hannah's buddy from Idaho, Jeff Hicks brings it on home as the sixth-best Jeff to ever race in the U.S. Hicks was a longtime privateer with many top-ten finishes, more so in motocross than supercross, but he got national #22 one year. That's no joke. He also raced in Canada a bunch.
Jeff Willoh
I almost put Willoh ahead of Hicks because he's got one career 125SX win while Hicks doesn't have any wins in the U.S. (although he beat Rollerball once in Edmonton Arenacross), but Willoh never really raced for that long. He does have that win, though! I also partied with him one time at Jeff Glass's house in Pennsylvania and thought he was going to die. Speaking of Glassy…
Jeff Glass
Here he is! Glassy never won anything, but he always looked good, had a cool Surf detergent sponsorship, got on the cover of MXA and got plenty of top-tens in 125SX. And the off-track stories of Jeff push him ahead of some other guys with better results.
Jeff Gibson
Gibby had a long career in racing and even survived being a factory Cannondale rider. He was a pro's pro, racing wherever he could make money. He raced SX, MX, AX, Canadian nationals—whatever it took to keep racing. Tip of the visor to Jeff Gibson.
Jeff Alessi
I mean, he's got to be on here, right? At his peak, the younger Alessi was pretty good here and there and probably had more supercross talent than his brother. Injuries and being Jeff Alessi held him back from getting more results.
Jeff Surwall
I have a soft spot in my heart for Surwall. He raced way more in Canada than he did in the U.S., but he got some top-tens in Nationals before heading north. Once in Canada, he secured a Labbatt's Beer sponsorship, which was pretty cool back then. He also straight-up beat Rollerball a few times, so you guys should be lucky I didn't put him as number one.
Jeff Jennings
Before my time, but this Californian got a shot at a factory Suzuki ride, I believe, and scored some top-tens. He wasn't around for long, but did pretty decently.
Jeff Friz
A Floridian, Friz was a privateer for a long time and one time MXA did a story on him, so there's that.
Jeff Pestana
A longtime NorCal pro, Pestana tested for Honda and got some top-tens here and there. And, somehow, he got ninth overall at Hangtown in 1990 in the 250 Class, which is way legit. He was also in a ton of Hi-Point ads back in the day for some reason.
** Jeffrey Herlings
I mean, he's one-for-one in the U.S.? Right? Right??????