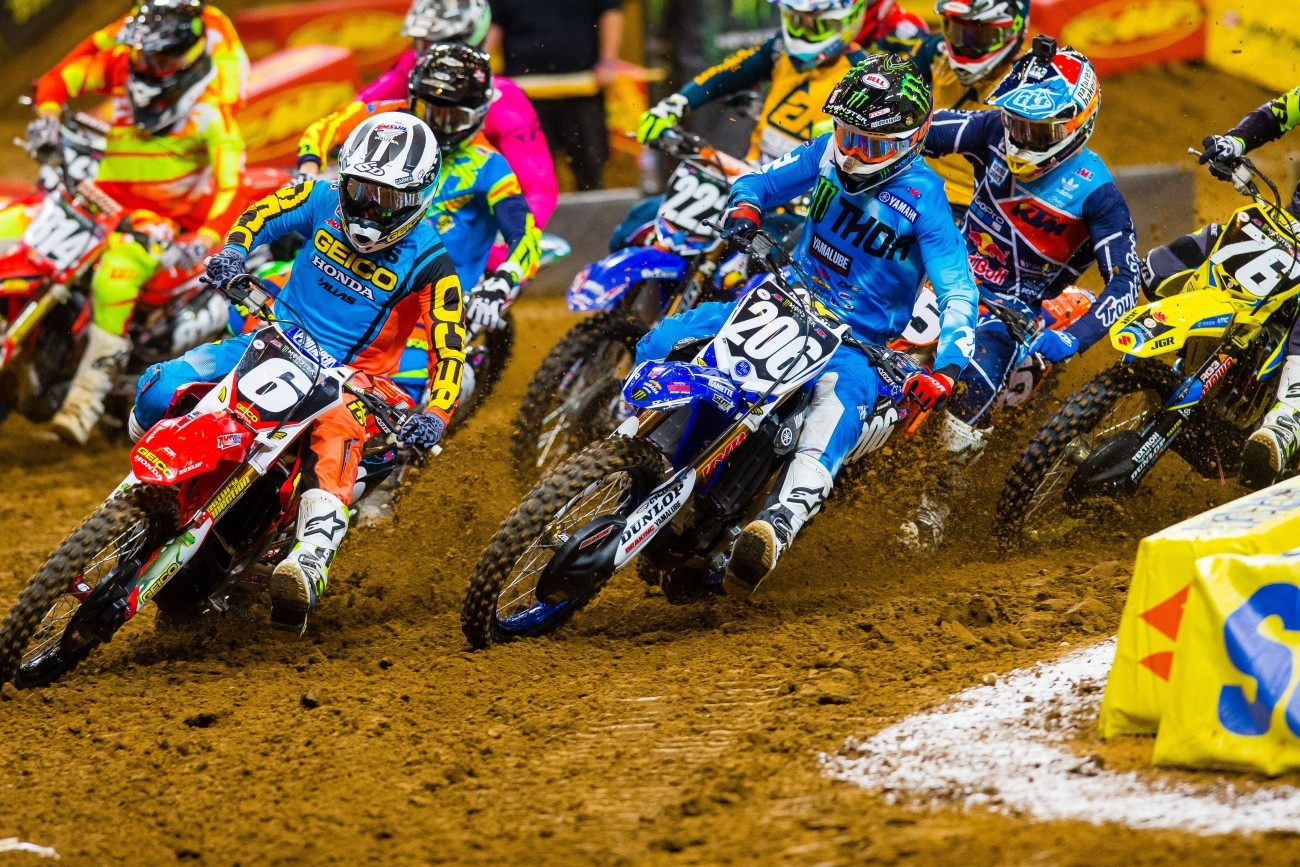 Blogandt
The Other Side of the 17-Race 250SX Argument
Yesterday I wrote about the unintended consequences of building a true 250SX National Championship with 17 races. It's hard to get the riders to agree on anything, but veterans like Zach Osborne and Jeremy Martin are all in on the concept, and Adam Cianciarulo, Aaron Plessinger, and Luke Renzland said more East/West races would be cool (they also did not object to the idea of 17 races).
But cutting East and West would also cut the jobs in the 250 class. Cut too many and you stifle the growth of potential future stars. A guy like Jason Anderson needed to be stashed on a 250 regional team for a few years to find his footing. Look at him now!
After posting the story, GEICO Honda co-owner Jeff Majkrzak called me to say the article was dead-on. I enjoyed the compliment, but as we started talking more, we began to shoot holes in our own theory! Multiple jobs due to the East/West split sounds great. But really, it stifles growth. This concept is as simple as socialism versus capitalism, and I know you have an opinion on that topic, because this is the internet.
The existing 250 East/West structure guarantees more jobs in the 250 class. Four- and five-rider teams instead of two-rider teams like we see in the 17-race 450SX Championship. Sounds like a winner. However, what if you rolled the dice on growth? What if a 17-round 250 series, pitting the best against the best every weekend, resulted in that much more attention, ticket sales, media interest, and TV ratings? Would that actually be a better economic formula? The current structure A) splits the talent in half, and B) guarantees that a popular young rider won't compete at every supercross race.
Think of how weird this is: Travis Pastrana was a damned sensation when he was finally old enough to hit the pro scene. He was arguably as popular as any 250 rider at that time, yet by racing in the 125 class, he was absent from half of the events. Same for James Stewart, also a phenom in the 125s. Most sports, in the constant fight for attention and on a quest for more ratings and more ticket sales, would be pushing athletes like that down your throat. Supercross tradition says that can't be done. In the case of Stewart circa 2002-2004, here's what you would get: "Hey, where's that super fast African-American kid we've been hearing about? Oh, he's not racing here? What?"
Look, the people love Adam Cianciarulo these days. They love his interviews, his social media posts, and that damned vlog. And yet, you're only going to get AC at half the races this year. This is tradition, and this is okay.
But any other sport would look at that model and think it's insane. People love AC? Give them more AC!
(By the way, there's an injury factor to consider here, but that's a complex formula to understand. Let's just proceed.)
Ironically, while I was thinking about this, the NASCAR race was on my TV (Monday afternoon race due to snow on Sunday). Declining ratings, ticket sales, and revenue dominate all NASCAR conversations these days. That sport is desperate for its young guns to gain traction and attract new fans. NASCAR folks would not understand a model that keeps its bright young talent away from half of the races. Baseball has been struggling for decades to get teenage fans to engage. If they had a sensation for the younger crowd, they would push it to the hilt.
Their model is different, though, for one major reason: NASCAR teams and drivers are funded by outside sponsorship. That sponsorship value is directly tied to attendance, TV ratings, and media coverage. Eyeballs. Same for baseball—more butts in seats and viewers of TV sets, more money to put in everyone's pockets.
Our sport does not work that way. Outside sponsorship exists, but the main athlete income still comes from the manufacturers, who somehow equate this to bike sales. TV ratings and live attendance do help. Energy drinks are surely in this space because of it, and more TV viewers probably does convince a company like Kawasaki to open the wallet a little more. But ultimately, manufacturers just want to win championships. Offer double the championships, and they hire double the riders.
(If you're asking why I care so much about getting jobs for the riders, it's because nothing depresses fans more than seeing their heroes not get rewarded for the work. Supercross and motocross racers are what we all aspire to be. It's the life we wish to live. You have to keep that glamorous and glorious. It's the pot of gold everyone chases.)
So what's the way to do it? Keep the existing East/West as assurance of double the jobs in the 250 class? Or go nuts, open it all up, and hope that the added growth and excitement ends up growing the pie so much that everyone gets paid, anyway?
This is one of the longest-running economic questions in human history. Regulate or deregulate. I can see both side of this argument, which is pretty rare because, you know, this is the internet. What do you think?