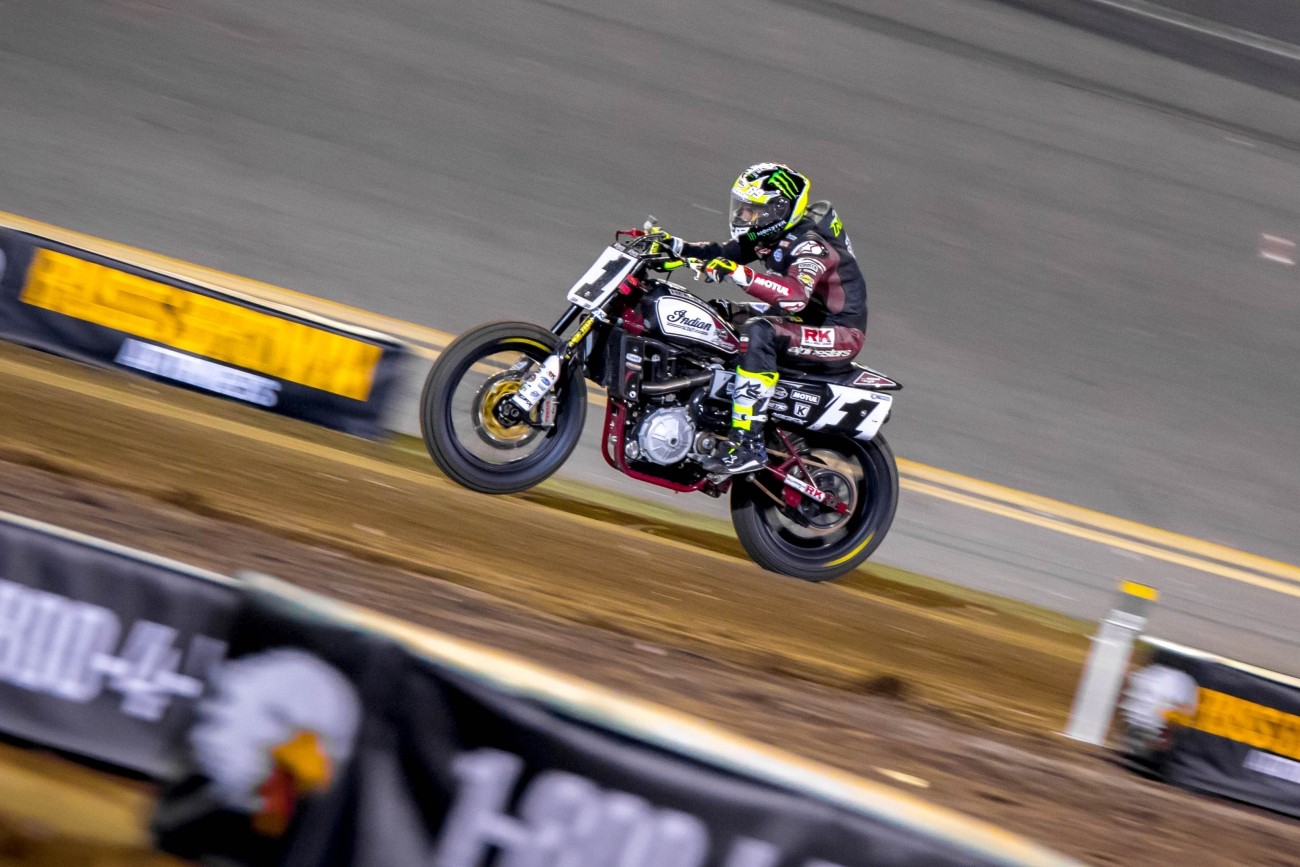 Blogandt
Flat Track is Blowing Up—Despite One Man Blowing Up The Formula
By all counts, American Flat Track has gained "it" status in the motorcycle racing world. It's been sitting there, relatively unchanged for literally decades, but a fortunate series of events has blown the lid off the sport and set it up for some serious growth.
The series contingency has rocketed from $220,000 to $3 million in a three year span, and the factory Indian and factory Harley-Davidson teams have poured big bucks into the sport, too. What's the reason for the growth? Well, there can't be just one, but I'll list as many as I can think of quickly here:
Because flat track was not popular, it became popular by being unpopular, and thus "cool."
Flat track became a de facto fun choice for riders who were tired of the ultra-professional world of road racing and motocross. Rouge flat track series like the Super Hooligans popped up and made run-what-ya-brung old-school racing cool again.
American road racing has shrunk and some of that enthusiasm and money has moved to the flat track side.
Harley recognized it needed a younger audience, so it pushed flat track, the only series where it competes, into the X Games.
Polaris bought the old Indian Motorcycle brand name and immediately went after Harley in American Flat Track. They spent tons of money developing a bad-ass bike and hiring the best riders and teams. Harley had to respond by ramping up its own efforts.
AMA Pro Racing hired risk-taking industry veteran Michael Lock as CEO, and he immediately had a vision for flat track's growth. He and his crew have made big changes, but they've turned out to be good changes.
Such changes include buying TV time on NBCSN to get the races in front of a broader audience (disclosure: I handle the play-by-play announcing for those shows). The series also hired a PR firm that has done wonders in getting flat track stories into the mainstream media. AFT has also revamped a lot of the events so things look a little more professional and polished than before, but the old-school roots still show. Also, the class and qualifying structure has been improved, making a clearer picture for fans to follow.
Shayna Texter, a female, almost won last year's AFT Singles Championship, straight-up, against the guys. Other motorsports salivate over the marketing potential of a female competing head to head, and winning, against the guys. NASCAR thought they had it with Danica Patrick, it never quite happened. Texter was a revelation last year, and mainstream media outlets were all over it.
There are probably many other reasons, but suffice to say that American Flat Track has momentum right now. People are paying attention and they like what they see.
Here's one crazy thing, though. Of all of flat track's hallmarks, close racing has always been its best quality. An industry veteran once told me that if close racing was the only thing that created popularity, American Flat Track would be the most famous racing series of all. But popularity requires more than just close racing. You could probably argue that Amsoil Arenacross offers up as much action, battles, and passing as Monster Energy Supercross. There is no arguing which series is more popular.
Real popularity comes from a more complex formula. It's combining close racing with stars, and the feeling the event is a really important. I mean, Formula One isn't amazingly close all the time, either, but it doesn't lack for fans.
Now that some American Flat Track stars are making real money, the races have more importance. Now that the events look more polished, they seem more important. These guys are stars and this is starting to feel "big time." That's the right formula. One thing has slipped away recently, though. Jared Mess is threatening to mess up that close-racing thing. In 2016, Mees and Bryan Smith engaged in the war to end all with an absolutely bonkers series finale. Smith made a last turn, last lap pass to take the championship. About halfway through last season, Mees and Smith were tied for the points lead. Since then, though, Mees has exploded, and he ended up breaking the single-season win record last year. He finished on the podium in every race he qualified for (he actually got DQed from one race last year by jumping the start too many times—yet he still wrapped up the championship early.) This year, he's started the year with back-to-back wins on two different types of tracks, a TT in Daytona and a short track in Atlanta. Mees is absolutely dominating right now. At least Daytona was close, with road racer JD Beach keeping him honest to the finish. In Atlanta, everyone else battled wheel-to-wheel the whole way. Except Mees. He was long gone up front.
When the series gets to the mile tracks, which usually prevent breakaways due to drafting and aerodynamics, it will be interesting to see if Mees can keep on pulling away. However, it might be okay if he does. While everyone says they love close racing, and close racing really is awesome, the popularity of many racing series often builds when one man starts dominating the field. It's funny how many times I would hear the dueling phrases of "supercross needs more parity to be popular" and "supercross' popularity was built from Jeremy McGrath's dominance."
I don't know what the exact formula needs to be, but I know American Flat Track is getting close. If one man goes out and dominates, it might not actually be a bad thing.