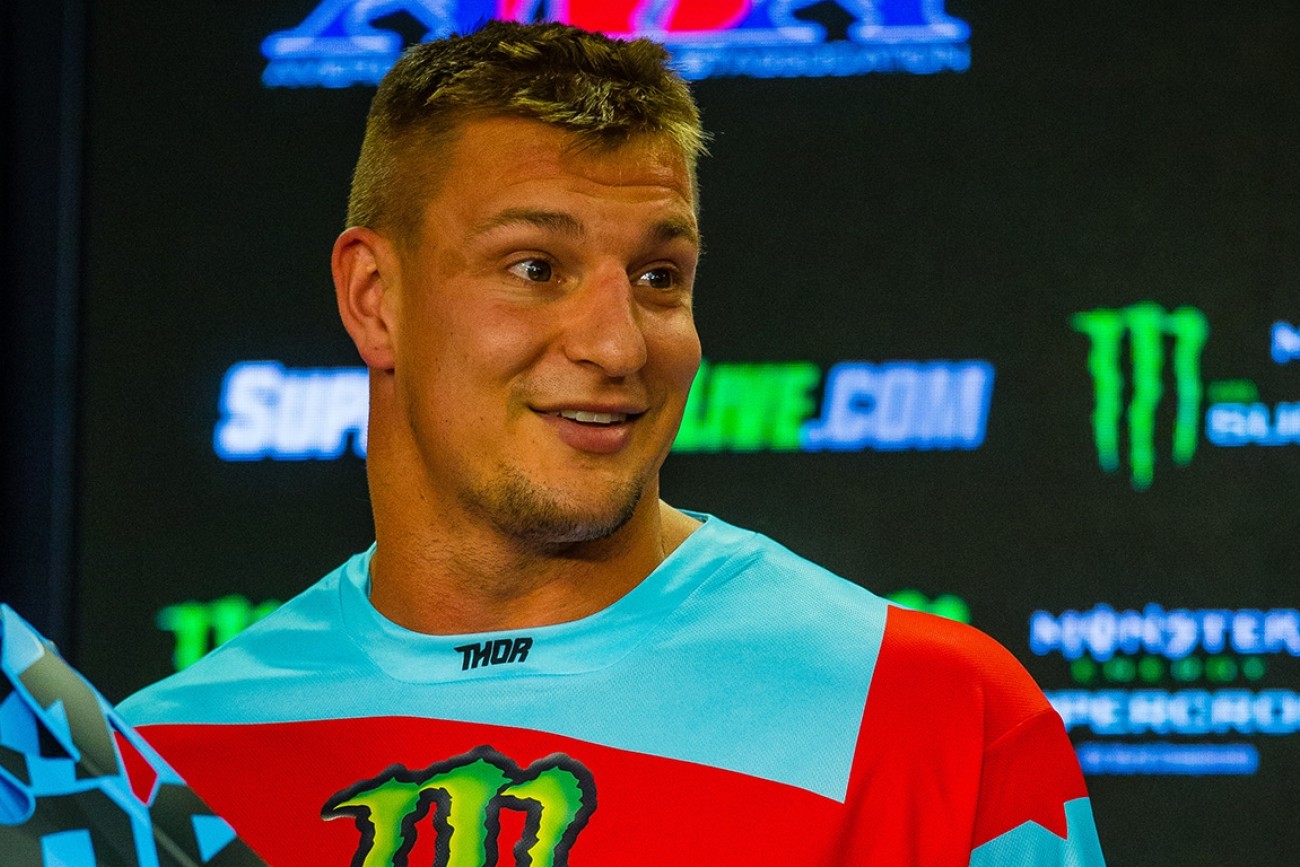 Features
Blog Boy Calls Monster Energy Supercross Race A Rally
Some may disagree, but having New England Patriots tight end, and Monster Energy athlete, Rob Gronkowski host a mock press conference Saturday at Gillette Stadium, where he joked about racing dirt bikes going forward and whatnot, was a good thing. The clip appeared on SportsCenter, Jenny Taft went on The Herd with Colin Cowherd to talk about it, the video showed up across many mainstream social accounts and websites. Any extra exposure for supercross, the riders, teams and sponsors is good.
It also showed the laziness and general lack of awareness of the sport across these outlets. Most reporters only cared about what Gronkowski said—or in this case, didn't say—about playing football next year (he's coming back, FYI), and that's fine, their jobs are to cover the NFL, not supercross. But, what really gets me fired up, is lazy blog boys like this guy, writing for some site called Patriots Wire.
Here is how he starts his piece:
"Rob Gronkowski reported to Gillette Stadium for the wrong job.
"The New England Patriots tight end applied his Gronkian carelessness and playful nature to a promotional meeting with the media for Monster Energy Drinks before a dirt bike rally at Gillette Stadium."
A RALLY!!!!! What in the actual fuck. Sturgis is considered a motorcycle rally. Daytona Bike Week is considered a motorcycle rally. A Monster Energy Supercross RACE IS NOT. This dude, obviously too lazy or incompetent to use Google, is what's wrong with sites like these. They have no editors checking their work, it's just sling shit and see what sticks.
All he had to do was Google Monster Energy Supercross, or even RALLY, which is defined: "a competition for motor vehicles in which they are driven a long distance over public roads or rough terrain, typically in stages and through checkpoints." Again, supercross is not this.
This wet blank precedes to complain about how the PC was unprofessional, blah, blah, and that "the practice field is Belichick's place of worship," (really, it's just a football game, bro. Let's relax a bit.) and ends it with this: "If this was Gronk's best attempt to signal he wants more money in contract negotiations, then he's flailing. He probably needed to be on his best behavior. This wasn't it."
Many dumb blog posts tried to look way too deep into this Gronk presser to see if the Patriots were going to be mad, if it was going to cause a riff between himself and the team, and more. Ryan Hannable from WEEI.com wrote, "Gronkowski joking about missing the workouts and not committing to attending them in the future is essentially mocking Bill Belichick, the rest of the coaching staff and the rest of his teammates for participating and caring so much about the offseason program."
Gronk announced his intentions to return to the Patriots the next day.