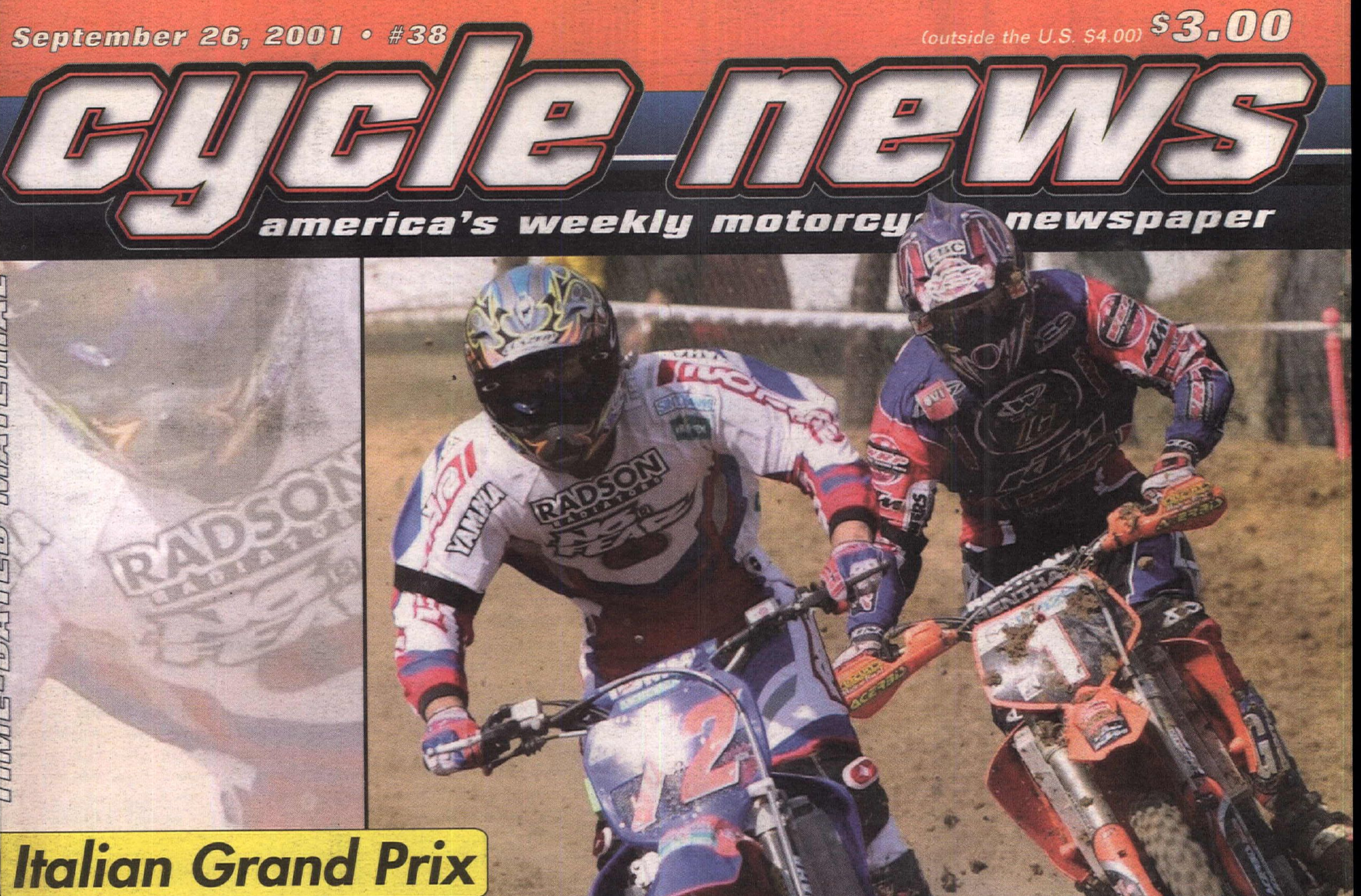 Blogandt
Working Through September 11
Everyone remembers where they were on September 11, 2001. We should not ever take this for granted—politics and government are very divisive topics these days, but everyone in charge from 2001 through now has helped protect us all from something like this happening again. Part of the reason the term "September 11" rings so clearly in the mind of every American is that such an attack on our soil is exceedingly rare. Do not take that for granted.
I'm going to tell my September 11, 2001, story here. My story is not a tragic one, and I need to make this clear: Virtually any story you hear about this day is more serious than the story I'm about to tell. We didn't have hashtags yet in 2001, but #neverforget was practically invented for September 11, anyway. The only reason I tell this is to provide a brief reminder of how crazy that day was. For all of the lives lost in this senseless tragedy, for all the families really affected, my heart bleeds for you. My tale is comparatively lame, but we all have September 11 stories. This is mine.
I actually had moved to Morgantown, West Virginia, on August 27, 2001—the Monday after the Broome-Tioga National in Binghamton, New York. I'd been hounding Racer X's Davey Coombs and Bryan Stealey for 18 months hoping to get a job. I even faked my way through a year of graduate school just to hedge my bets in case a job opened up. In 2000, the economy was rolling and I could have easily gotten a job at a PR firm in New York City and started the climb through the corporate rat race. It was basically impossible to not get a job back in those days. Once I entered the corporate world, though, I wouldn't have ever come out—so I went back to college for one extra year in hopes DC would give me something, anything, in this industry.
It took all of that year. In August 2001, my second year of graduate school was about to begin, and I had to decide if I was going to return and finish up my graduate thesis, just quit and get a regular job, or maybe, just maybe, move to Morgantown. Broome-Tioga weekend was literally the breaking point, and, as fate would have it, Davey walked up to me that weekend, unsolicited, and said, "I've got an apartment for you. Move out this week."
I drove back from Binghamton on Sunday night. I loaded up and headed to West Virginia on Monday.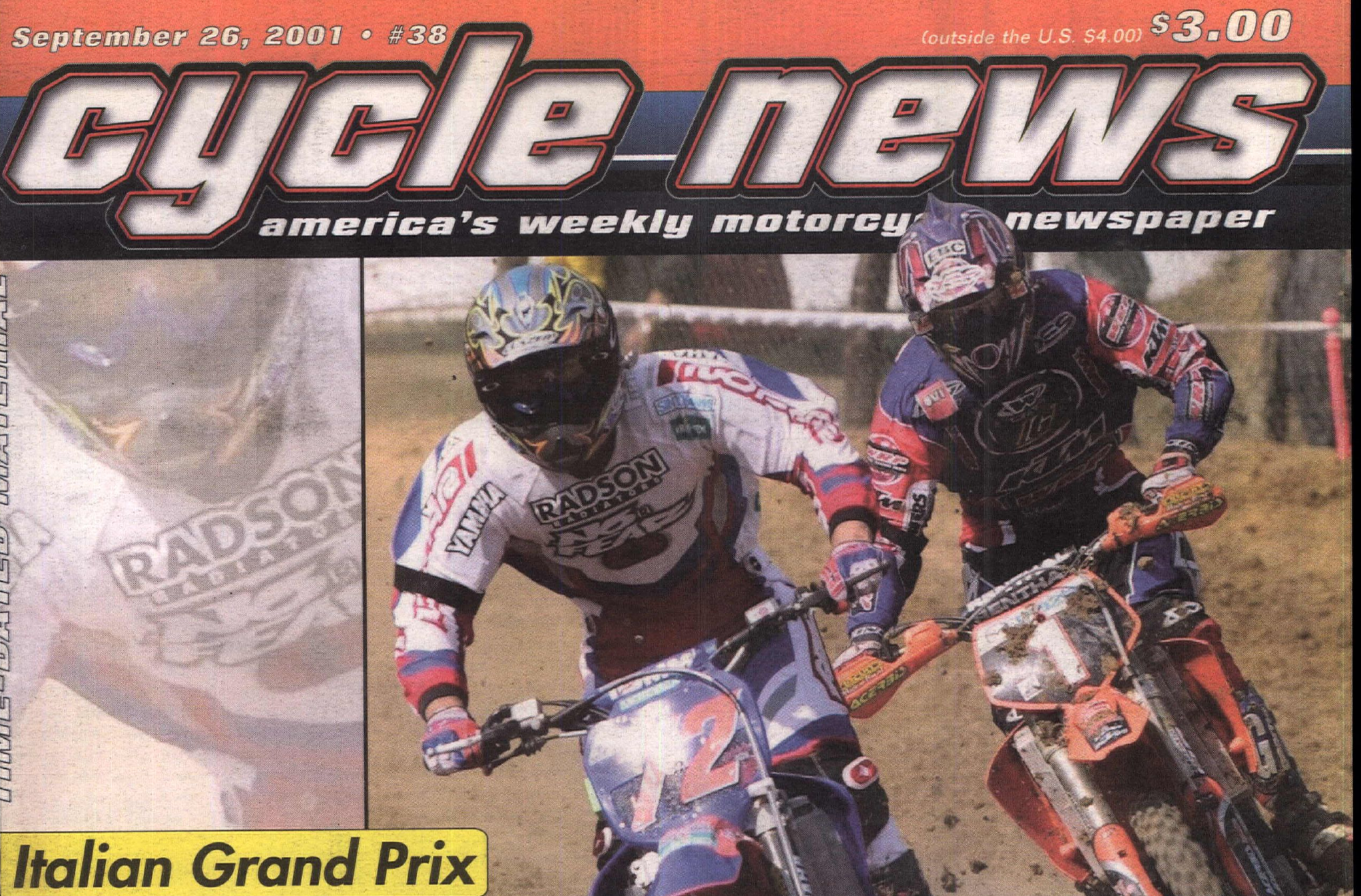 I was ready to work. Like, "I just got my dream job" ready. Only Davey and Bryan didn't really have any work for me to do. Nor did they have a computer for me to work on. Or a desk. And because I didn't have a job description, a computer, or a desk, I began to assume that I wasn't going to get a paycheck, either. That assumption was accurate. Look, Racer X was a bit scatterbrained in those days, okay? Anyway, this process sucked, but I stuck it out because I knew if I went back home, I'd regret it for the rest of my life.
Making things stranger, I didn't have any real way to communicate with my parents back home in New Jersey. Cell phones weren't quite a life requirement yet by 2001, and I was a broke college student, so I didn't have one. I also didn't own a computer, so I had no way of getting on the internet. After a week of work hanging around the office doing nothing, I went to the famous "Langston's broken wheel" Steel City finale in 2001. The next week, I realized I could borrow someone else's computer and desk and get on the internet if I came to the office early enough.
So each day I would come in at 7:30, wait for Stealey to roll up and open the door, and then I'd borrow designer Dave Brozik's computer to check email or do whatever the hell "work" I'd figured I should be doing. I penned a column on that Steel City race. Later, Davey started telling me to help with the GNCC that upcoming weekend in Ohio. I didn't know what type of help was needed, but I figured I had a PR degree, so maybe I could try to get some press for the race. I could only work for about an hour until Brozik showed up to start using his computer. At about 6 p.m., Dave would go home and I would borrow his computer again. Then I drove to Ohio on Friday to go to the GNCC. Davey told me to write a Cycle News story and do whatever else I could to "get on his mom's good side." Of course, his mom didn't even end up going to this race, so I squandered that opportunity.
I got back from the GNCC on Monday, September 10. I started writing my Cycle News story, then sent a draft to Davey, a veteran of Cycle News writing. He rejected my story and then explained to me how to really write for the paper. I'd been reading Cycle News my whole life, but to get a one-day writing lesson from Davey was priceless. As he told me more about covering the races, I learned more about the GNCC Series in general and the many things Davey used to do to help his parents publicize these races. At this point, Davey had moved on to full-time motocross and supercross work as an ESPN pit reporter and by founding Racer X. My mission was clear, though—do the things Davey did in his early days, and I'd be on my way.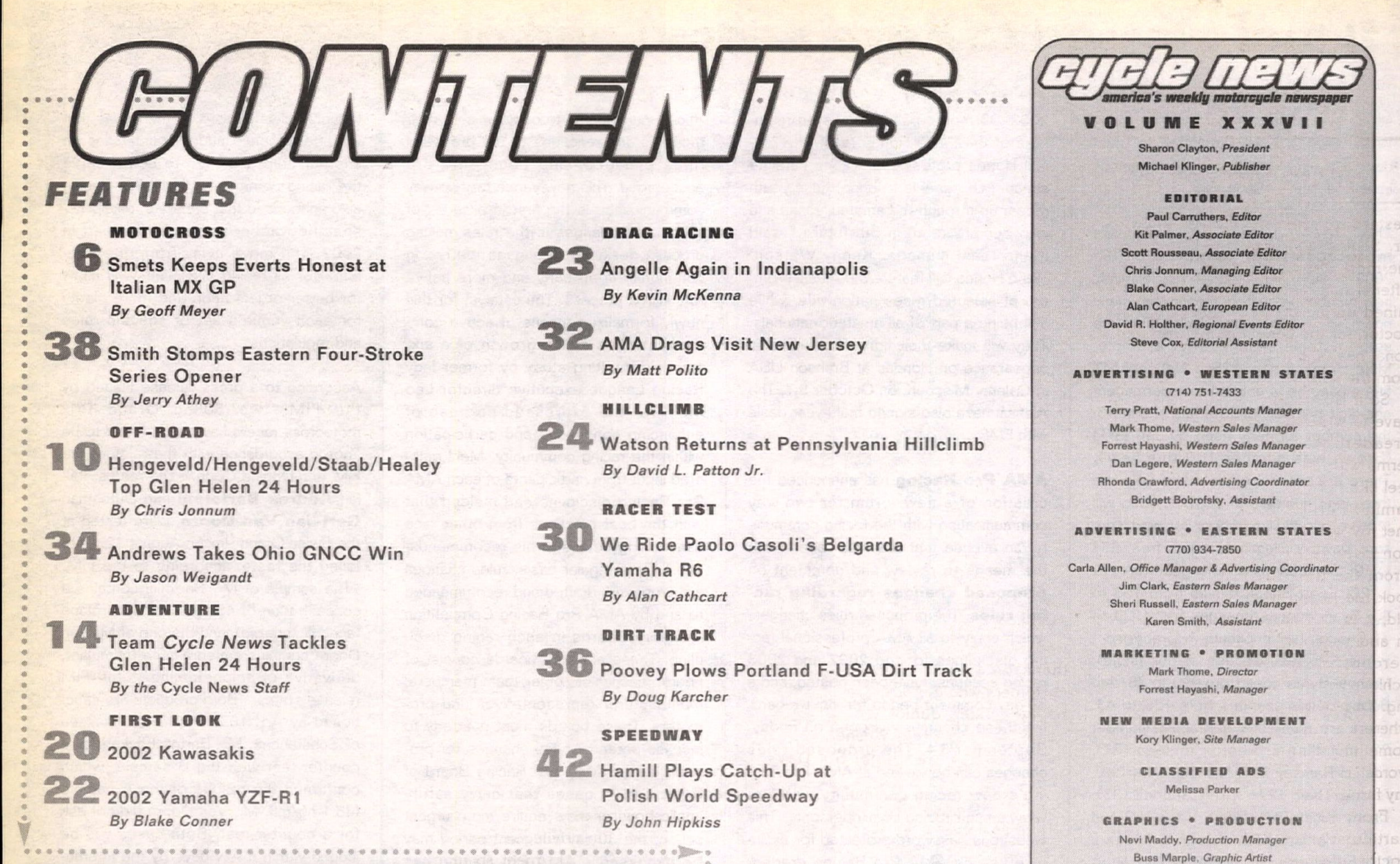 I still didn't have a computer, though. I would have purchased one, but I didn't have any money. Look, I just can't accurately describe how disorganized Racer X was back in these days! But I knew I had to get that Cycle News story done on Tuesday. It was imperative to gain the employment I wasn't sure I actually had. Also, maybe it would get me on Davey's mom's good side?
The next day, I was there early again, eager and ready to finalize this Cycle News story from the 2001 John Penton GNCC. Stealey let me in, I worked on Brozik's computer…an hour later, Bryan got a CNN breaking news email about a plane crashing into a World Trade Center tower. That was certainly tragic, but the gravity of the situation didn't come clear until the second hit, which now made it obvious this was not an accident. Shit was going sideways. We were under attack.
By the time the rest of the staff got to the office, everything had come unglued. Ad girl Julie Kramer lived in an apartment next to the office, so we eventually all walked over there to watch TV in her living room. There, we got to watch everything in gory detail, and I remember watching something crazy on the screen, at first not even able to understand what it was, until we realized it was actually a tower just straight up crumbling before our eyes. I didn't even realize, scientifically, that this could happen.
Now we were beside ourselves. Everyone was scared; however, I still had the classic hint of North Eastern elite New Jersey/New York cockiness inside me. We were in freaking West Virginia. Nothing was going to happen over here. We were fine. We were good.
Then the news reported that another plane had gone down in a field in western Pennsylvania. That was about an hour north of our office. Okay, all fear was on the table.
At this point the staff was so ragged that everyone decided to go home—or go to a bar to watch more TV and drown in the sorrows, trying to make sense of all this. I'm sure Davey, who holds an unofficial Ph.D. in American history, held court.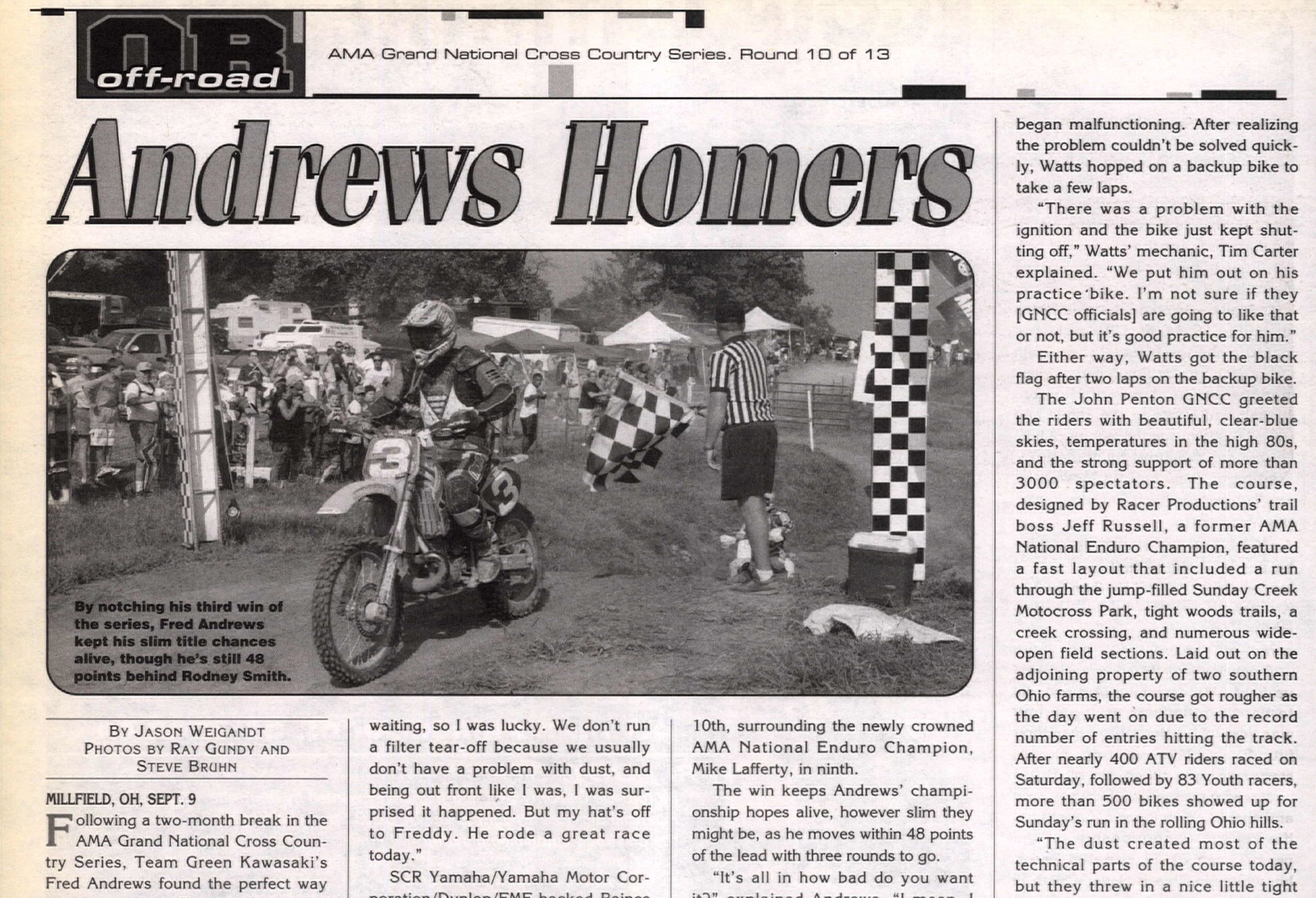 I had to stay at the office, though. I had to—had to—get that Cycle News story done, and, further, this was my best chance because now the office was empty and Brozik's computer was available. Also, we had phones, so I called my parents to make sure everyone back home was okay (the closest I have to an actually tragic September 11 story is a brother/sister pair from my high school who both worked in the WTC, but both were not yet to the building when the planes hit).
Everyone was gone, and everything was effed up and scary and crazy, but I got to work on my story and sent it, then I got some other press releases written for the next GNCC race. This was my only chance. Cycle News also paid me for the story, and soon I had enough cash to actually buy my own computer. I was off and rolling—after a few more GNCCs I had carved out a job for myself, and eventually, yes, I started to get paid. I just needed that one day to find my mission and accomplish my first assignment, and time was carved out for this under the absolute worst circumstances of all. #NeverForget