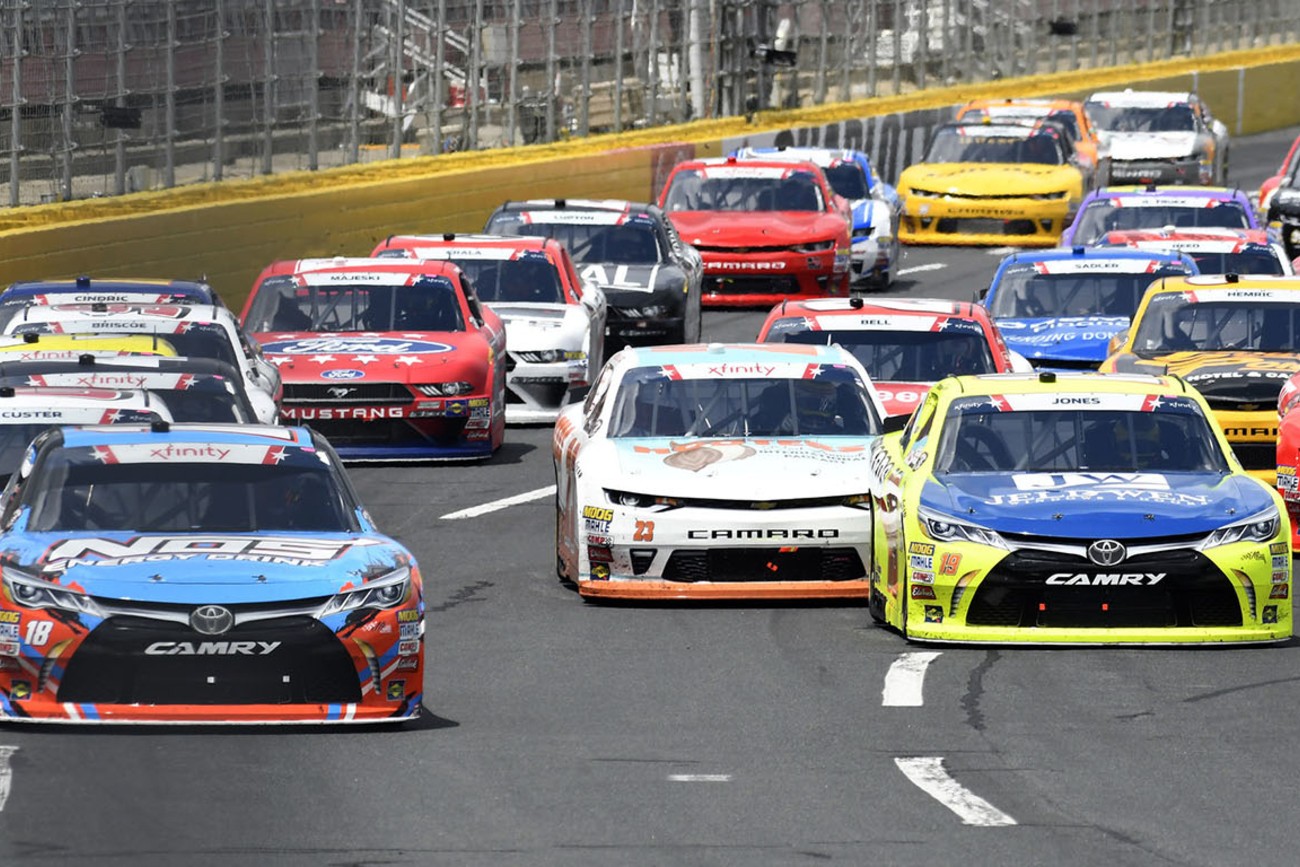 Blogandt
Rubbin is Racin': NASCAR's Experimental ROVAL Race Went to Plan
Old-school NASCAR fans love to tell you that their sport lost its way. They like to complain about gimmick stuff like the Playoff format and Stage Racing, but the primary complaint all around, and the one most often used to and explain the trail off from the super peak of the mid-2000s. Of course, simply "not enough good racing" is an over simplification, the sport faces a lot of head winds, and some are those shared by every other event trying to get people to put butts in seats and click on the TV remote while battling YouTube and social media content for attention. And, further, not every old-school NASCAR race really featured a door-to-door bash fest until the finish. That's just nostalgia saying that, the same way our fans remember every supercross main event on a two-stroke being a barn burner.
The biggest problem? The worst racing happens on the 1.5 mile tracks, referred to as Intermediates. But those are the most common tracks in NASCAR! The short tracks still produce some beatin' and bangin', and the huge Superspeedway tracks are Daytona and Talladega create giant pack races. Medium sized tracks don't. Here's how far things have flipped: NASCAR always throws a few road course races on the schedule (left and right turns) but those used to look like a square peg and a round hole for stock cars. Somewhere along the way, though, the road courses became the antithesis of the high-speed but no passing Intermediates. Intermediates lacked for passing, but the road courses just gained more bumping and bashing, and the fans started loving it. The common request? More road courses and short tracks, fewer intermediates. Especially in the NASCAR Playoffs, which are predominantly made of Intermediate-length tracks.
But, contracts are locked in. Tracks have made huge investments and they're not going away.
One thing about NASCAR, though. It's not afraid of change. So they made a huge one at the of the most iconic Intermediate tracks of all. Charlotte Motor Speedway presents the ROVAL—the road course oval. The course diverted the cars off of the usual oval banking and down to the infield road course. Half oval, half road course. How did it race in its debut this weekend? Exactly like the fans hoped it would.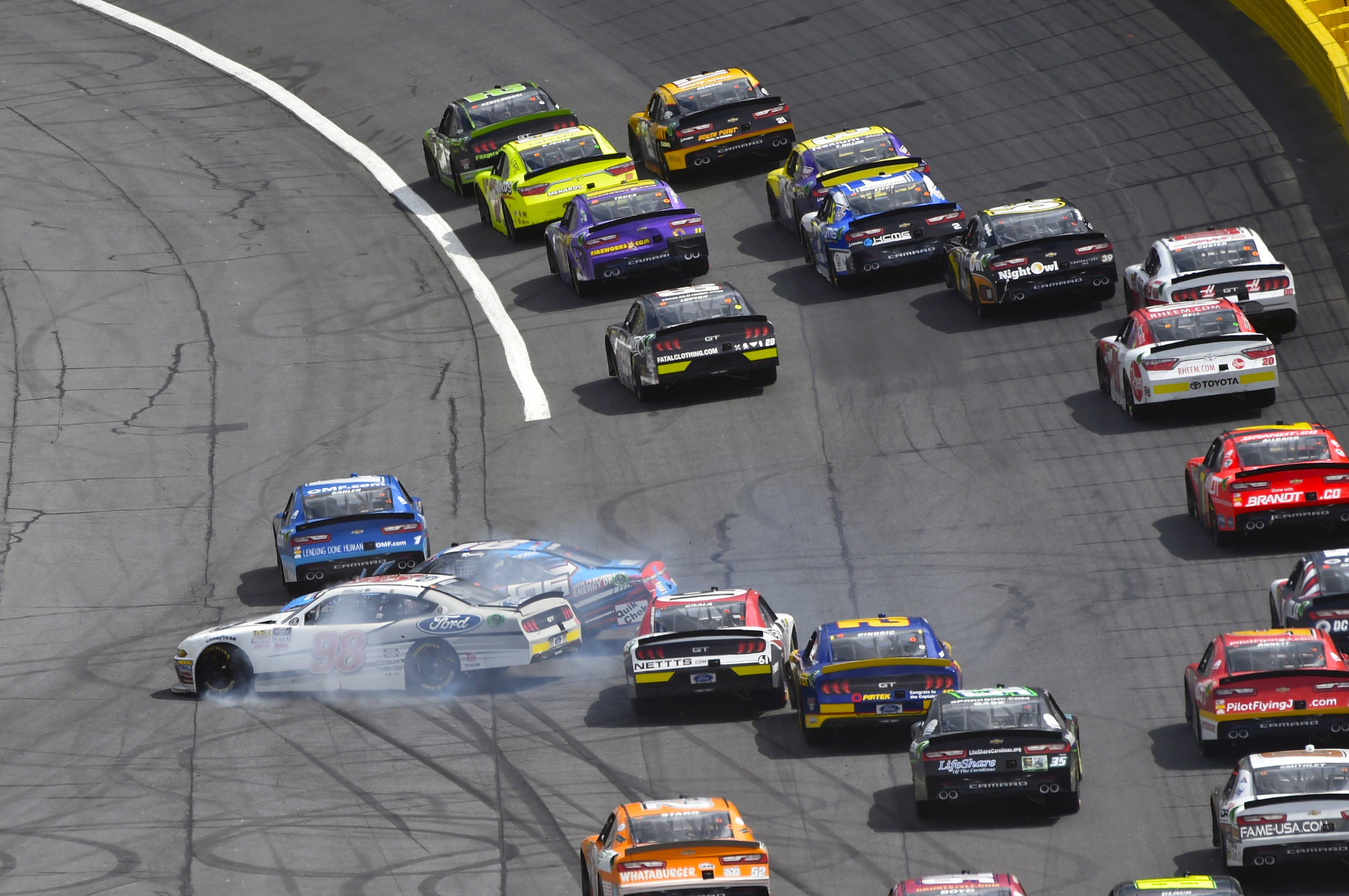 NASCAR fans love that rubbin is racing. In most car racing, any contact at all results in destroyed vehicles and big crashes (those fancy wings on an Indy or Formula 1 car are NOT bumpers), but stock cars have always been able to take a beating. One time, Dale Earhnardt Sr. won a race with some contact and said "I rattled his cage" and the fans absolutely ate it up. But on the bigger tracks, the cars are just too good now. Aerodynamic principles continually help the lead cars get away from the trailing cars in clean air. NASCAR keeps trying to change the aero formula, but soon after that race engineers figure out the new math and get the aero back where they want it. The Intermediates get boring again. (The Superspeedway tracks are different because they slow the cars with restrictor plates, which also keeps the pack together. Yes, NASCAR is experimenting with a similar concept but retuned to work on the Intermediates, as well. NASCAR is always willing to try.)
On smaller tracks and road corses, aero doesn't matter as much. Racing goes back to driving skill—braking later, and finding a line around the other car. Oh yeah, and making some contact. Charlotte Motor Speedway was willing to take the giant risk and give the fans what they want.
Plus, this was the final race in the first round of the Playoffs, which meant four drivers were about to be eliminated from the championship chase contention.
The race can be summed up with two crashes. First, on a late race restart, the two leaders, Brad Keselowski and Kyle Larson, ended up smashing the wall and bashing their cars. Larson looked like the odds-on favorite to win the race, but was instead now looking at a DNF, which mean he would probably get eliminated from the title chase contention. The in-car camera showed him basically tearing up and staring in disbelief, knowing one false move had wrecked his entire season.
That mega crash left Martin Truex Jr. and Jimmie Johnson battling for the lead, and I mean battling, because Johnson, the seven-time champion, has struggled all season (as have most of the other Chevy drivers). With a much-needed win in sight, he had blood in his eyes. Johnson saw a shot at the win and he took it… too far on the last lap because with the checkers in site, he thought he had a line for a pass on Truex, dove in too deep and spun out. (Johnson later said he should have adjusted his brake bias to prevent the spin—but it's a better story to say he just took too big or a risk to try to win. Forget the technical stuff!) Johnson's spinning car tagged Truex, allowing third-place Ryan Blaney to snake through and steal the win. Blaney is a young star but a fan favorite because A) he's cool and B) his dad Dave once raced at the top level. Two cars crashing into each other on the last lap to let a fresh-faced young star steal the win in the final turn? Bingo!
Johnson's push for the victory cost him huge. Second place would have easily advanced him into the next round of the Playoffs, but he instead finished eighth, and via a series of tie-breakers, was eliminated from the chase playoffs. But he went for it! He crashed trying to make a last-lap pass! This is what the fans want!
"Ultimately we were in a transfer position and didn't get it… just going for the win," said Johnson to NBC. "Wins are so important. The veteran could have taken the safe route and didn't and unfortunately (it) took us out of the playoffs, and also took out the 78."
"He just overdrove it and was never going to make it and he used me as brakes and turned us both around," said Truex. "It sucks. We could have raced side-by-side off the last corner for a win, and that would have been cool. The fans would have been digging it, but instead we finished 14th and he's locked out of the Playoffs. I guess that's what he gets."
Even wilder, the only reason Johnson was eliminated was because Larson, who had crashed on the previous restart, was somehow limping his damaged car along. When another car spun in the final turn, Larson rolled past while also smashing the wall (because his car wouldn't turn, it was basically a three-wheeler at this point) gaining one position and one point, enough to move to the next round. Symbolically, Larson's car was then put on a wrecker and hauled off. It barely got to the finish but that was enough, and all the fans wanted.
After the checkers, Truex rammed into Johnson and spun him around one more time to show his displeasure.
Folks, this is the kind of drama NASCAR was built on. Did it really happen every weekend back in Dale Sr.'s day? No, but anything that seems old-school also seems cool, even if the ROVAL is actually an entirely new thing. Hey, Red Bull Straight Rhythm is also a new concept, but once it goes all two-strokes in two weeks, nostalgia will become its biggest benefactor.
What's new seemed old and the fans in NASCAR country loved it.