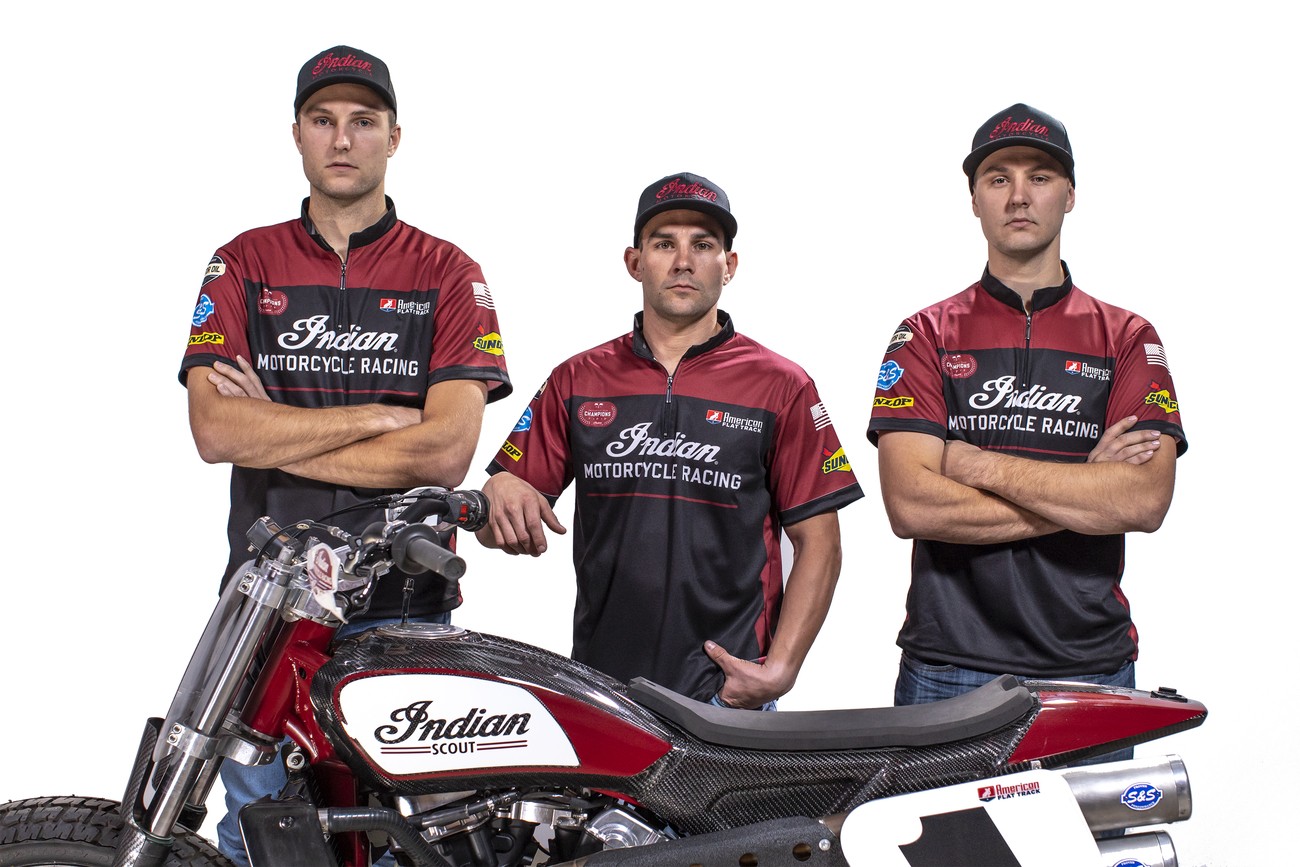 Features
Indian Announces 2019 Factory Flat Track Squad
American Flat Track keeps growing, and the Indian "Wrecking Crew" factory team has generated many of the headlines by absolutely dominating the AFT twins class since the team re-formed starting in 2017.
Indian announced its 2019 team today, and it marks the first changes since the squad re-emerged. Jared Mees, who has won the last two AFT Twins Championships with Indian, returns, but brothers Briar and Bronson Bauman now join the squad. Indian's previous other riders have different roles now. Brad Baker, who was paralyzed in a practice crash at X Games last year, returns to the team as technical advisor and rider coach.
Brian Smith, the 2016 AFT Champion, will not return to the team. Rumor has it that Smith is going back to a Kawasaki, which he used to win the title in '16. To add a little extra fire to those rumors, AFT has announced new rules for the 2019 season that would benefit a production-based machine like the one Smith rode a few years ago. Production engines can now be bored-and-stroked to 900cc instead of 750, and they can run larger throttle bodies. Indian is okay with the larger displacement, but not happy with the new throttle body rule. You can read its full statement about that here from Cycle News.
We take serious issue with the third rule change – allowing production engines to increase from 38mm throttle bodies to 40mm. This rule excludes Indian Motorcycle Racing, because the Scout FTR750 is not a street legal production motorcycle. Not only does the rule singularly handicap Indian Motorcycle, it represents a significant impairment of our ability to compete on an equal level with every other team in the paddock, specifically on mile tracks.
Indian said it has no issue with the new displacement rules, nor new fuel rules put in place for 2019. Although Indian doesn't like the fuel-body change, it will still go racing with full commitment.
Despite these changes, we will attack 2019 with the same competitive focus and determination that resulted in back-to-back championships over the past two years.
Here's Indian's PR on its 2019 lineup.
MINNEAPOLIS – Following a dominant 2018 season, where the Indian Scout FTR750 won 17 of the 18 American Flat Track (AFT) races, Indian Motorcycle Racing today announced its 2019 AFT factory race team. Along with the return of reigning AFT Twins presented by Vance & Hines Champion Jared Mees, Indian Motorcycle Racing welcomes Briar Bauman and Bronson Bauman to its 2019 Wrecking Crew. Additionally, former Wrecking Crew rider Brad "The Bullet" Baker returns to the team as technical advisor and rider coach.
After back-to-back AFT championships in 2017 and 2018, Mees returns to the 2019 Indian Wrecking Crew with Crew Chief Kenny Tolbert, Mechanic Bubba Bently and Jimmy Wood on suspension. Dick Tibbits also returns and will aid all three Wrecking Crew riders with nutrition, fitness, and mental preparation. Team operations for Briar and Bronson will be conducted by Paul Langley and S&S, while Dave Zanotti will serve as crew chief. Michelle DiSalvo has signed on as Briar's mechanic, while Bronson's mechanic will be named at a later date. Indian Motorcycle Racing also welcomes the return of Dean Young as Wrecking Crew team manager.
"We're excited to bring back Jared, and his championship pedigree, as we embark on the next chapter for Indian Motorcycle Racing. We welcome Briar and Bronson and are proud to have them represent our brand on and off the track," said Gary Gray, Vice President – Racing, Technology & Service for Indian Motorcycle. "When it comes to racing, we've assembled some of the most talented professionals in the sport, and we're looking forward to the upcoming season."
One of the key team members who will assume a leading role as a technical advisor and rider coach is Brad "The Bullet" Baker. Indian Motorcycle Racing is extremely proud to continue its relationship with the former champion and Wrecking Crew rider. Baker will closely support and mentor Briar and Bronson throughout the 2019 season by analyzing their on-track performance, help with race-day strategy and bike setup. Baker brings a championship-winning perspective and a wealth of knowledge and experience on the Indian Scout FTR750.
Over the last two seasons aboard the Indian Scout FTR750, Mees has recorded back-to-back AFT Twins championships and has tallied 20 total wins. Through nine races aboard the Indian Scout FTR750 as a privateer, Briar secured six top-five finishes, including a second-place finish at the Peoria TT and a win at the Williams Grove Half-Mile. Following Baker's injury at X Games, Bronson filled in and ran his factory Indian Scout FTR750 in the final seven races. During that time, Bronson garnered his first top-five finish of the season and his first career AFT Twins podium with a second-place finish at the Williams Grove Half-Mile.
The 2017 Wrecking Crew swept the season standings, finishing first, second and third. The team earned Indian Motorcycle Racing's first Manufacturer's Championship. In 2018, Wrecking Crew riders and Indian Scout FTR750 privateers swept the top nine positions in the final standings, securing another Manufacturer's Championship for Indian Motorcycle Racing.