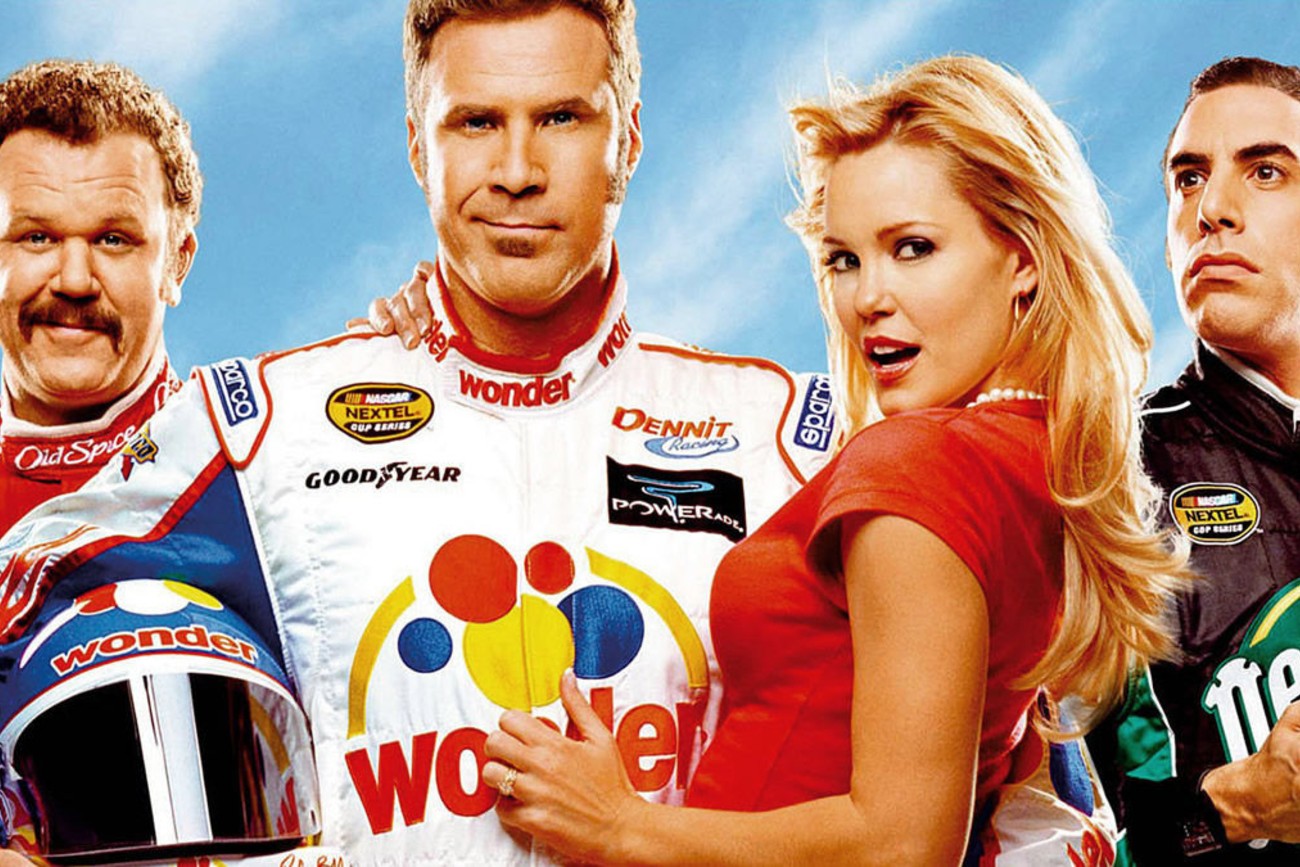 Blogandt
2019 SX Preview Via Quotes from Talladega Nights
Let us use the seminal racing classic Talladega Nights: The Ballad of Ricky Bobby, as our guide to Monster Energy AMA Supercross in 2019. Here are the quotes, and here are the riders they apply to.
"You gotta win to get love. I mean, that's just life. Look at...look at Don Shula. Legendary coach. Look at that Asian guy who holds the world record for eatin' all those hot dogs in a row. Look at Rue McClanahan. From The Golden Girls. Three people, all great champions, all loved."
Jason Anderson was the 2018 Monster Energy AMA Supercross Champion, but doesn't garner the spotlight or credit a champion usually receives. This sport is in transition, with the superstar establishment of Ryan Villopoto, James Stewart, and Ryan Dungey all leaving the race track within a short span. Riders like Anderson have to fill the void, but even amongst contemporaries, Anderson doesn't yet ring up to superstar status like Roczen or Tomac.
Anderson does not care about this. He knows the huge championship check cashes regardless of whose name is on it, or how big that name is. However, if Anderson did care about credit, getting more is as simple as winning more races. Anderson has won seven 450SX main events in his career, which is fewer than Tomac has won in either of the last two seasons. The more you win the more you remind people of your powers. Last year Anderson came out firing, won three of the first six, and found himself with a massive points lead. Maybe he slowed down to protect his gap, or maybe Tomac was just faster. This year presents another chance to confirm his ascension—hey, it took Villopoto several titles and a lot of wins to truly be considered at Stewart or Reed status. These things take time—but they also take wins.
"It's because it's what you love to do. It's who you were born to be. And here you sit—thinking! Well, Ricky Bobby is not a thinker. Ricky Bobby is a driver. He is a doer, and that's what you need to do. You don't need to think. You need to drive. You need speed. You need to go out there, and you need to rev your engine. You need to fire it up. You need to grab a hold of that line between speed and chaos, and you need to wrestle it to the ground like a demon cobra. And then, when the fear rises up in your belly, you use it. And you know that fear is powerful, because it has been there for billions of years! And it is good! And you use it! And you ride it; you ride it like a skeleton horse through the gates of hell, and then you win, Ricky! You WIN! And you don't win for anybody else. You win for you, you know why? Because a man takes what he wants. He takes it all. And you're a man, aren't you? Aren't you?!"
We will spare you Ricky Bobby's reaction to this quote, from his PR gal/about to be girlfriend, Susan.
Ken Roczen has been through hell and back twice now in an 18-month span, and a lesser man would be struggling to use a fork and knife properly, let alone race a motorcycle. Yet there is Ken, not simply trying to comeback, but actually doing it, a genuine threat to win races and maybe this title. Simply put, Ken's arms and hands might be weakened, but his mind is not, and unlike so many racers who struggle for confidence, the German never doubts his greatness. Kenny has been anointed as a star since his earliest days, and he and this industry know it. His body could be broken, but his belief is not, and that's why he's still a huge threat starting this weekend.
Jean Girard: What is the Highlander?
Ricky Bobby: It's a movie.
Jean: Any good?
Ricky: Very good. It won the Academy Award.
Jean: Oh? For what?
Ricky: For best movie ever made. Just want you to know, I came here today to tell you one thing: Come race time tomorrow, I'm comin' for you, all right?
Jean: May God be with you.
Ricky: Yeah.
Jean: Because although today I am friendly...tomorrow...will be WAR!
Ricky: Alright...
Much is made over the potential drama of several fast riders all training together with Aldon Baker, and yet, nearly 10 seasons into this concept, we can think of just one on-track dustup between his clients: Anderson cutting under Marvin Musquin and taking him down last year. What happened after that? Marvin briefly attempted, and failed, at revenge the next weekend, and everyone moved on. Both still train with Baker. They might not ride together every day, but they're both still "on the program." Heck, Marvin got much more heat for his own aggression with Tomac a few months later. Thus, there remains no proof that the Baker concept can't work.
However, we'll keep waiting for the day when drama bubbles over and someone yells "it's either him or me." Maybe adding the combustible Cooper Webb to the mix will do that. Maybe having a fourth 450 rider in Zach Osborne will do it. It seems like a collision course that's bound to happen, and yet, since 2011, not much has ever happened. It has all certainly worked than Ricky Bobby and Cal Naughton Jr.'s relationship. Shake 'n Bake?
"You've got to learn to drive with the fear. There ain't nothing more frightening than driving with a live cougar in the car. If you're calm, that wonderous big cat will be calm too. But if you're scared, that beautiful death machine will do what God made it to do, namely, eat you with a smile on its face."
Any racer who endures a huge injury has to wrestle some internal demons before getting back on the track. Cole Seely only made the mistake of being cool—instead of putting on a front, he went in front of the public and admitted his fears. Due to a DMXS Radio interview last year where he admitted he might not want to race again, there's an assumption that Cole could still be scared to hang it out on the race track. Reality is that Cole has long since moved on from that, and should be fine physically, and, once some opening-round jitters have subsided, mentally. We've seen this scenario plenty of times—scary injury, rider says (but usually not to the media) that he might not come back, then he returns and goes just as fast as he used to. Heck, the rider who used to hold Cole's spot at Team Honda, Trey Canard, literally made a career out of doing this. So the key for Cole is stay calm and preventing that cat from eating him with a smile on its face. He'll probably be just fine.
Reese Bobby: [walks into the classroom] Excuse me, darlin'. I'm Reese Bobby. I'm here for career day.
10-year-old Ricky Bobby: Hey dad.
Reese Bobby: Hey there, boy! Man, you got big. How long's it been? Three, four months?
10-year-old Ricky Bobby: Ten years.
Reese Bobby: Ten years? Man! I gotta lay off the peyote. [puts a cigarette in his mouth]
Ricky's teacher: Mr. Bobby, there's no smoking in here.
Reese Bobby: Oh, it's all right, darlin'. I'm a volunteer fireman. Okay, I am a semi-professional racecar driver and an amateur tattoo artist. [Children makes "oohs" and "aahs"] And the first thing you gotta learn if you're gonna be a racecar driver, is you don't listen to losers like your know-it-all teacher.
Ricky's teacher: Okay, I think that's enough...
Reese Bobby: See, the teacher wants you to go slow, but she's wrong, 'cause it's the fastest who gets paid and it's the fastest who gets laid. [Children cheer; Reese nods] Aw, yeah.
[Cut to Reese being thrown out by a group of janitors; Ricky's class follows them]
Reese Bobby: You people are in the wrong on this one! So in the wrong! This is egregious! You hear me? Egregious! [Points at a janitor] We were cellmates together, Andy! You got payback comin'! [To Ricky] Don't listen to these people, Ricky! You're a winner! If you ain't first, you're last!
[Reese jumps in his #13 Chevelle and speeds away; the children all cheer again.]
10-year-old Ricky Bobby: If you ain't first, you're last...
Marvin Musquin has ridden technical excellence to the very ceiling of the sport. He's finished second in three-straight 450 championships. Technical excellence, though, is only getting him so far. There is one section of a supercross track that sometimes can't be attacked with precision, but instead aggression. It is the whoops. And that's where Marvin's new coach, the outspoken, eight-time premiere class main event winner David Vuillemin, comes in to play. DV cares not what other coaches coach, or what other people say. It's DV's way or the highway, and he won't deal with excuses. Vuillemin, who stands over six-feet tall, could always crush some whoops in his day. Perhaps he can transfer those powers to the more slightly-built Musquin. Further, combining his knowledge with his brash persona could be exactly what the always-humble Marvin needs.
Dick Berggren: Dick Berggren reporting from Las Vegas victory lane for FOX Television. Ricky, obviously a huge win for you today, but it seems as if you either win, or crash the car trying to win.
Ricky Bobby: Well, Dick, here's the deal: I'm the best there is—plain and simple. I mean, I wake up in the morning and I piss excellence. You know, nobody can hang with my stuff. I'm just a—just a big, hairy, American winning machine. "If you ain't first, you're last!" You know? You know what I mean? That phrase is trademarked and not to be used without the expressed permission of Ricky Bobby, Inc."
Look, there's really not that much strategy to dirt bike racing, but no one should roll into this season with a strategy like this: blow Eli Tomac's doors off. If Eli's on his game, that ain't gonna happen. Over the last two years, he has easily been the fastest rider in supercross, and he has won half of the races as proof.
All these guys can do, then, is let Eli be Eli. He might be super fast, and in that case there's not much you can do with him. He could also crash, or, have those odd nights where he suddenly turns average. Even right now, there are rumors swirling that Eli hurt his back during this off-season and had to take some time off. Eli generally works in the shadows, so no one is going to confirm this rumor. He could win Anaheim 1 by 20 seconds. He could struggle. You just never know.
Eli Tomac does not want to be inconsistent. No one has felt the sting of certain victories turning into painful lessons more than him. He knows all of this. Can he do something about it? Can he be excellent in all 17 races? That might be the only thing that matters.