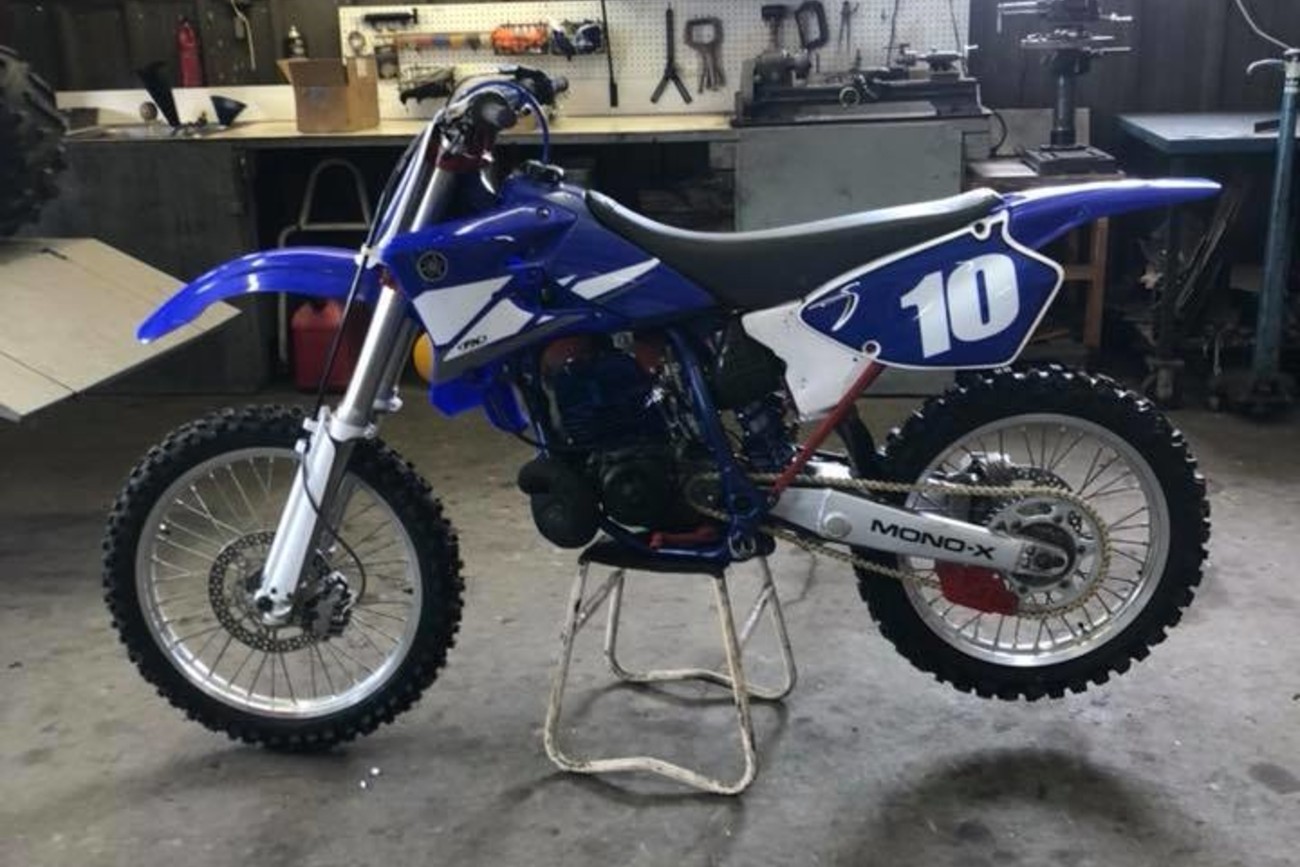 Blogandt
Some Guy Built The Bike We All Say Would Save the Industry
Look, everyone likes to blame four-strokes and expensive bike prices for problems in this sport. I often hear fans asking for "price point" dirt bikes, ones that are still capable but not quite as good, or as expensive, as the latest 250F or 450F.
But what would that bike actually be like? I wrote about this a few months go here.
The problem with "our sport" is that it's based on racing, and even though not everyone buys a dirt bike to race, they all-too-often buy it under the idea that the best performance, at all costs, is the best. There are cheap trail bikes available, like TT-R 230s, but no one considers them a proper motocross alternative.
Now I've found a guy who might have actually built the bike everyone says they want. He took an old steel-framed YZ125 and mounted a Yamaha Blaster (air-cooled 200cc two-stroke) inside of it. This would be cheap and light but also fast enough and with good enough suspension and brakes to be fun. Is this what you want?
Read on for his story:
Jason,
About a year ago, I started tossing around the idea of building a modernized, air-cooled MX all-purpose bike. The bike would be a smaller bore, nimble, easy to start, and fun to ride. Back in 2003, I did a similar project; mounting an air-cooled YZ490 motor in a 1999 YZ250 chassis. My main complaint with this configuration was the weight and vibration. It was fun to ride on open MX track but it was just too heavy and bulky for trail or play riding. For the most part, small bore, air-cooled bikes haven't been manufactured since 1982, so finding parts and a complete engine quickly became a nightmare. While doing some online research, I stumbled across an article in Adventure Rider, where a guy had a blown YZ125 steel chassis machine, a Yamaha quad, and an idea. His article chronicled his build and eventually the finished product. Now, I don't want to take away anything from the man and his fabrication, and I thought that his idea was a novel one, but I also felt I could improve on this idea.
As a 48-year-old former MX racer, I've seen the transformation of bikes from the 1970s to present day. I've watched the number of riders dwindle, mainly due to the price of new machines and the cost of rebuilding the modern four-stroke engine. My biggest question I have asked myself time and time again is, "why doesn't someone offer a simple engine design in a modern frame that would be suited to MX, trail, or casual use market?" What started as a passing thought quickly consumed my days and nights as I brainstormed configurations.
I'm a Yamaha guy, and there is no machine available between the TT-R under-powered and soft suspension trail bikes or a full blown race YZ models. I have always maintained if I can't get what I want, or need, then I will build it myself. It started with the Yamaha Blaster motor, which went unchanged from 1988 until 2006, when the EPA rules put the knife in the Blaster's heart. Yamaha sold a ton of these machines, though, and I began searching eBAY for a complete motor to begin my project, which I had named "The YZ Retro." I secured one for about $375 and it was on to step two: securing a YZ125 rolling chassis. My preference was to find a machine that was not running, and by pure luck, I did just that. The two key factors for my build were secured and eBAY became my go-to resource for miscellaneous parts, such as a gas tank, and several other parts that ended up not being used, or simply didn't fit on my build. Using some information from Luke's build from the article I had read, I knew the swing arm pivot was too small to accept the 125 pivot bolt. It was at that point, that I decided to take my bottom end to a local dealer for a complete rebuild with an added 3mm stroker crank for a little more torque and displacement. The dealer had the cases bored and replaced all the bearings, crank assembly, along with a Hinson clutch assembly plates, and springs.
Now that I had a complete bottom end I could begin fitting the motor in the YZ125 chassis. The width of the YZ motor was approximately 74mm while the Blaster was 60mm. I would need some spacers made to take up the extra space and align the sprockets. A local machinist made one 8mm spacer for the left side and one 6mm spacer for the right side. Once the rear of the bottom end was in place, it was time to configure the other motor mounts. I carefully cut off the bottom motor mounts and realized I wouldn't be able to use it at all without drilling through the tubes on the bottom side of the frame. However, to my amazement, the front two mounts lined up perfectly but were the wrong width. Correcting this became a very simple task, by merely cutting them off and flipping them over and re-welding them I could solidly mount the engine. For added support, I drilled a 3/8 inch hole in the engine head and added a head stay bracket since the YZ125 motor originally had one. My logic was the front mount, rear pivot, and head stay would provide support for the frame to flex.
The next task was fitting the carburetor and engineering an air box. While doing some research on the Blaster forum, I discovered a Honda CR125 intake manifold would bolt to a Blaster cylinder. This became vital, because the intake had the correct bend to get carb around the rear shock. The Honda intake also allowed for a bigger carb to be installed versus the wimpy 28mm Mikuni that Blaster's come with. I opted to go with a 35mm Mikuni TMX carb pre-jetted from Sudco. The larger carburetor didn't quite fit correctly and hit the frame. I made another visit to the machinist to have them mill both the reed cage and the intake manifold thinner. Between the two, we were able to shave off an additional 4mm. This plus the short TMX carb now allowed the carb to fit without making contact with the frame. I had purchased an older YZ air box from a 2000 model since they had used a 36mm carb, the problem was the back of the new TMX carb wouldn't fit! Luckily my rolling chassis was a 2001 model which was the first year of the 38mm carb on the 125. The snorkel from the air cleaner would now fit snugly around the newer carb so that problem was solved. The front of the air cleaner box had to be cut out so the snorkel could be moved up higher and back further so it would line up correctly. Doing this required making a new face plate so the snorkel could be reattached to the air cleaner box and the YZ air cleaner element could be used and still serviced. I eventually cut a piece of sheet metal and attached it to the front of the air box to cover where I had cut it to prevent it from getting thrown full of mud.
By retaining the stock air cleaner box I could be assured stock number plates would still bolt on correctly for a "factory" type of look. The seat also needed the plastic tab removed since the new face plate for air cleaner was moved higher. The seat still bolts on correctly and mates with tab on gas tank to hold the front down. The YZ125 gas tank wouldn't work because the cooling fans hit the tank. From my 490 project I knew the solution was to get a YZ250F gas tank from a steel frame machine. The tank mounts obviously do not line up so I made some custom triangle type of mounts that would hold the tank in place as well as allow the seat to mate up correctly. I added the radiator shrouds as well for a "modern" look and to act as a tunnel ram to help force air across the cooling fins. A custom throttle cable was also needed since a stock Y125 cable was too short. I was, however, able to use the stock YZ clutch cable. I have almost forgotten to mention two special brackets needed to support the bottom of the radiator shrouds.
I now had a complete machine and all that was left was the exhaust pipe. I purchased a used Pro Circuit exhaust pipe from a local dealer for $20. The pipe originally was for a 1995 CR250, but fit my exhaust flange perfectly. Obviously, it was not a direct fit, but by cutting at welds and rotating cones and using pieces from the 125 pipe I was able to configure an exhaust pipe. I used the stinger end from the 125 pipe so it would bolt to the silencer correctly. The larger air cleaner, bigger carb, motor on first over bore ported by Eric Gorr, along with the head modifications for squish and stroker crank combined with a bigger exhaust should make this a fun bike to ride.
This is a simple machine with 30 to 35 hp, with all the modern components, and a stone age simple motor. Since air-cooled motors need more tolerances because of the expansion, they could equip them with a "smart carb" for emissions and external turning capabilities. I have to thank some key players in helping me make this idea become a reality. Luke from Adventure Rider who did a similar project for trail riding, for the inspiration, Rhett and Charlotte Wickett for all the parts obtained with their eBAY account. Doug Alexander at Moto-Sports KTM. Ben Decker at Decker Performance. Rick McDowell at Competition Specialties. Eric Gorr for his superior engine work. Dan Gifford at Van Wall Powersports in Indianola, Iowa, Paul Nickel at Advantage Cycle also of Indianola and Curt Garner at Garner Welding.
That is pretty much a run down of my YZ Retro bike, which has a running weight of 220 pounds. I've kept all of my templates in the event I was to build another one. I'm hoping some manufacturer takes notice of this, I feel there is an untapped market for the YZRetro!
Thank you,
Dan Huss