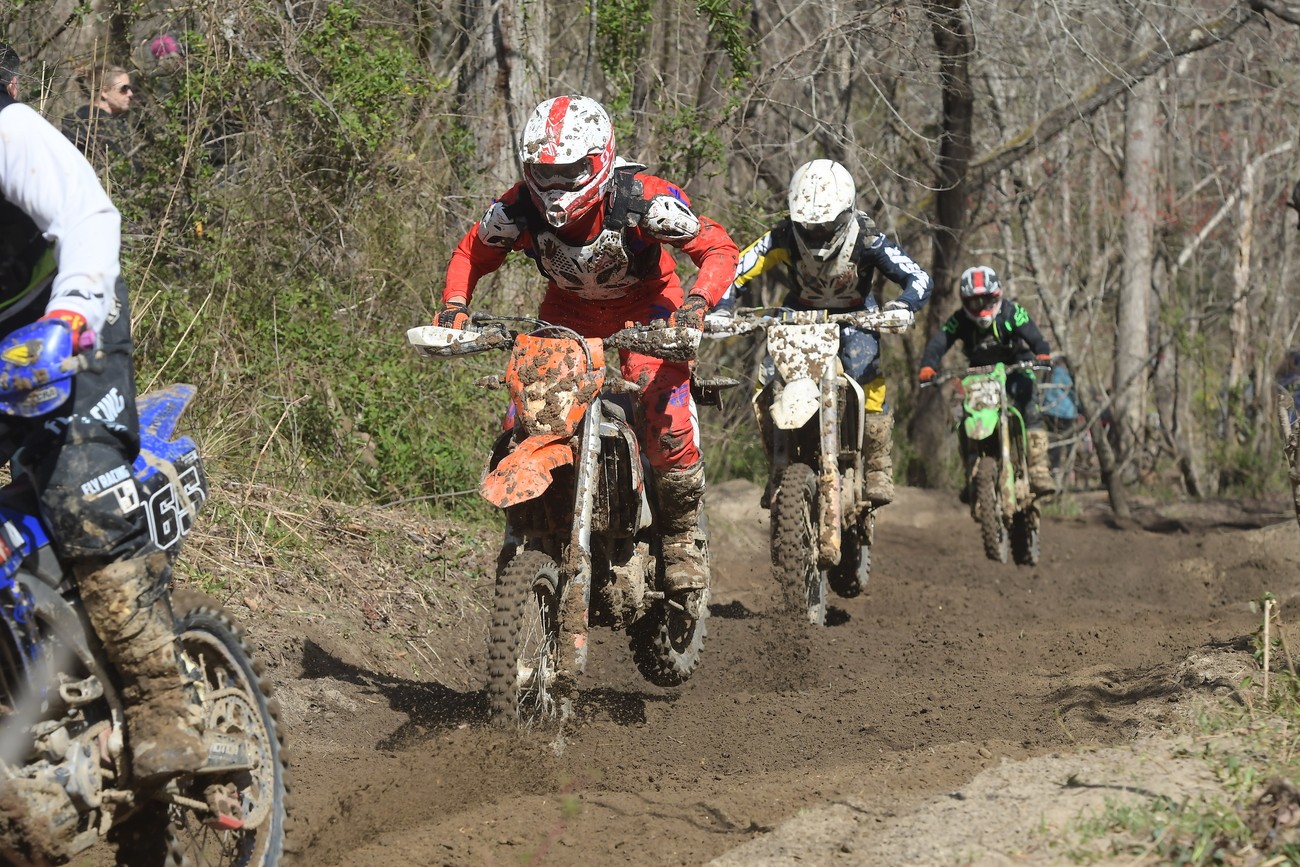 Blogandt
Weege Raced A GNCC And Lived To Tell About It
There was a brief period in Roger DeCoster's life when he wasn't racing or running a racing team, and instead writing articles for Motocross Action and Dirt Bike Magazine. I remember he provided training tips once, and said he couldn't understand why no one would ever show up for a running race without training for it, but people show up for motocross races without training all the time.
Well, I did it. I raced for two hours and seven minutes over the weekend at the FMF Steele Creek GNCC, round three of the Amsoil Grand National Cross Country Series presented by Specialized. I have a life policy of racing one GNCC per year, because my fledgling dirt bike racing career never even got the chance to fledge, but I can surely carve out one day a year to race, and feel the highs and lows of being a racer, just once. Most of my year revolves around the race date. I love covering dirt bikes, but like so many in this industry, I like riding them even more. When the rare chance to do so opens, it feels like your true calling.
Of course, at this stage of my life I'm not randomly jumping, literally, into a motocross race, as I operate under a strict "don't go the airport on crutches" rule dating back to the time I cased everything on Bradshaw Boulevard at High Point, broke both ankles, and then got a call to announce the Vancouver Supercross. This was 2004 and I realized then my future was in announcing pro races and not racing local ones. My ankles still hurt from walking through the airport that weekend because I had to choose luggage over crutches. Ever since, I've kept most of my riding in the woods. In my mind, it's safer for the weekend warrior.
A quick refresher on my riding career (I tell this story all the time): I loved motocross growing up, but the best my parents could do was some rinky dink quads. By the time I was in my twenties with a real job (at Racer X), I got a bike, but our local tracks (High Point and Steel City) didn't offer open practice. If you wanted to learn jumps, you had to go out in C class practice on race day and follow guys off of them. Don't screw up or you will get landed on! It was a scary existence and this is why I endorse initiatives like the United States Motorcycle Coaching Association. Not everyone has a family member to pass down all the lessons.
Anyway, woods racing seemed like a safer bet. Of course, before even learning to ride in the woods I tried racing a GNCC, which was horrible to the point of hilarious. I steadily improved and now I can do all the laps and such, and it's gone from "OMG just try not to die" to actually feeling like I'm racing. It. Is. So. Much. Fun. I spend the 364 days a year reliving every minute of the one race I have time to do.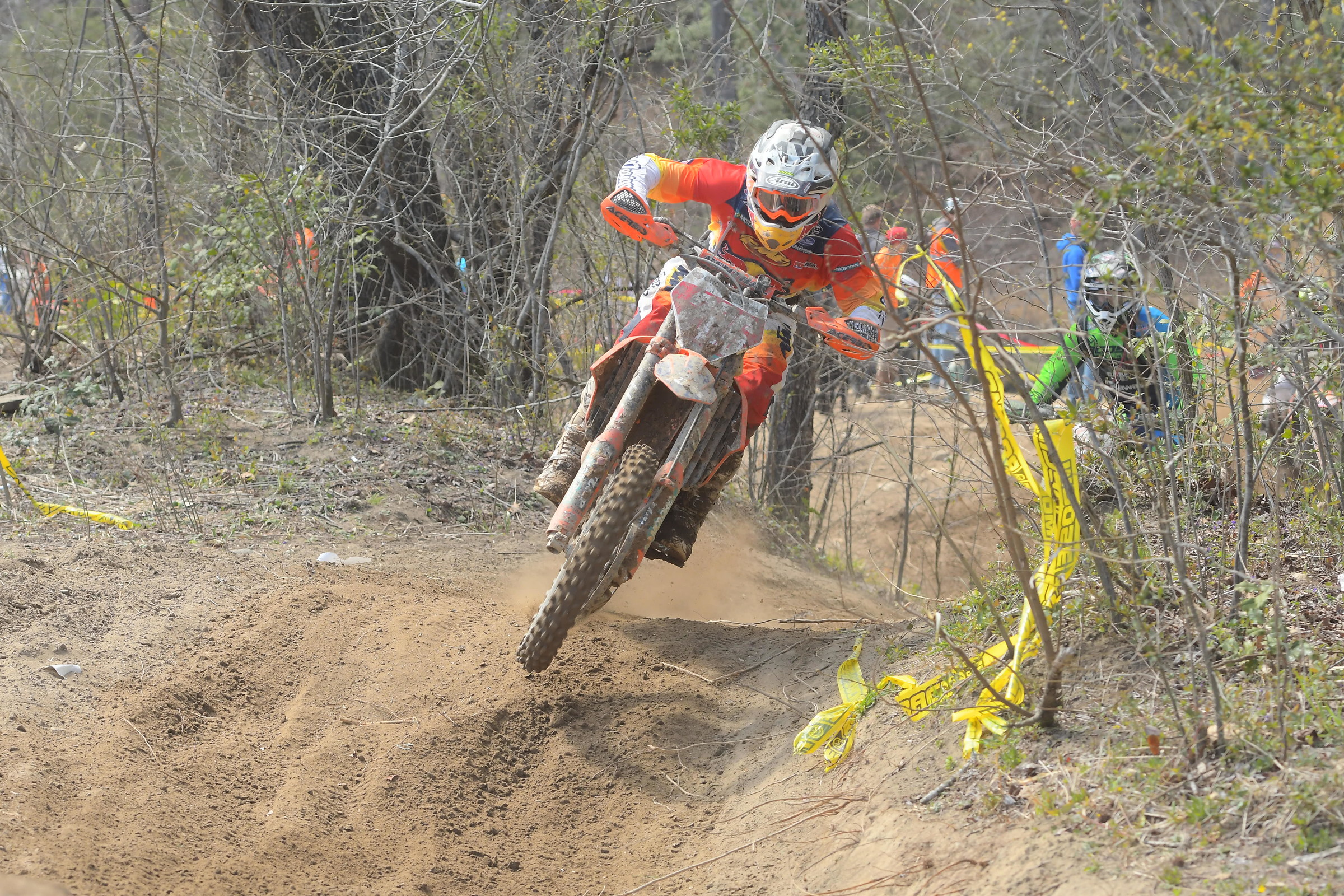 So, onto this year. Steele Creek in North Carolina is not the best place to pick if you're going to race once, because the track is gnarly and rough as hell. All GNCCs are rough, but there are easier ones, like Big Buck in South Carolina, which I planned on racing until it got cancelled. Steele Creek is tough because A) This is the 20th year of GNCC racing there and B) It draws one of the biggest crowds of the year which leads to C) Freaking bumps everywhere. I mean, everywhere. There's not a smooth foot on this 10-mile track. You either have round sand whoops or square edges in the hills. Also, I'd say 90 percent of this track is up or down hill. So, it's rough and hilly. Oh, and rutted. Sometimes you have ruts, sometimes you have bumps in ruts, and sometimes you have bumps in ruts while going up or down a hill. There's just literally not a single part where you can chill for a second. One bad bounce from a square-edge bump or one cross rut and you're tackling a tree or going head first into the creek. I will say that it's kind of a perfect challenge—the course is tough but it doesn't have any ridiculous mud holes like the ones in the Snowshoe GNCC that make you contemplate selling your dirt bike and quitting riding altogether.
Now for my race setup. Last year I plotted a new strategy of getting a dual sport and finding some woods near the house so I could practice more often. I did get the dual sport, but the riding still never happened. I work seven days a week and have two young kids. It just ain't gonna happen. Last time I rode in anger was the Yamaha off-road intro last September. The good thing was, a Marine vet in my neighborhood forced me to do some gnarly training in the gym last fall, so I'm in better shape than usual. But bike time is bike time and I didn't have it.
Some of you might be laughing at the dual sport part of this, but if you know anything about KTM's EXC-F line, you know these are dirt bikes with license plates. Swap in some real knobbies and a few other small tricks and you're good to go. I tried to take the big license plate fender extender off the back, but I suck as a mechanic, and after getting all six bolts off, I realized the fender extender also works as a washer to hold the bolt used to ground the battery. So I had to put it back on. Yep, racing with a plate, blinkers, horn, headlight, and everything! Oh, and a key. My bike has a keyed ignition. Please remember that.
My four-year old son is sky high pumped on dirt bikes and demanded to watch me race. I had to bring my whole family to the track. Hence, strapping the dual sport to the back of the family minivan. Bad ass!
On race day, I set up camp alongside my old buddy Tim, who would also race the 10 a.m. morning race along with me and… 700 others! Yes, 700 dirt bikes on the track at the same time. Did I mention this track gets rough? Because I had to drag my whole family out of bed on Sunday morning, I was super late getting to the track and in a huge rush to get geared up. Massive, massive thanks to GNCC legend Barry Hawk for the pro-level tape job on my hands, no way I could survive two hours of racing without it. I got my gear on, Barry taped me up, and I ran back to my pit ready to roll out… and nothing. Electric start button did nothing. My bike doesn't have a kick backup. In the silence of not hearing my bike running, I could hear the National Anthem and pre-race prayer over the PA system. I was about to miss the race.
So I started pushing through the pits, trying for a bump start. No dice. Hmmm, maybe, when I reinstalled that fender extender, I didn't get the ground bolt back in? So I pushed back over to the pit, whipped out a tool kit and proceeded to unbolt everything again to make sure I had everything right. Everything seemed okay—so it wasn't the bolt, the battery was really dead, and I really needed a bump start but the pits were empty because 699 riders were already on the starting line.
(By the way, I had left the key in the ignition and apparently left it on. That's why the battery was dead. Hey, for me, it's a miracle I didn't forget the key at home, so, this was still a win.)
I spotted a 60-year-old track worker guy with a yellow flag sitting on a quad. He volunteered to push for a bump start, and then of course some kid on a BMX bike comes riding RIGHT INTO OUR PATH so I screamed "get out of the way!!!" and he just stared at me and we crashed into each other. Yup, taking out kids, that's what I do. At least that caught the attention of some guy driving his pickup, and he hopped out to give me another push, and… it worked! Bike fired and I had probably two minutes to get to the start before I missed my row. Also, I was kind of already tired from all the bump start attempts and my race hadn't even started yet.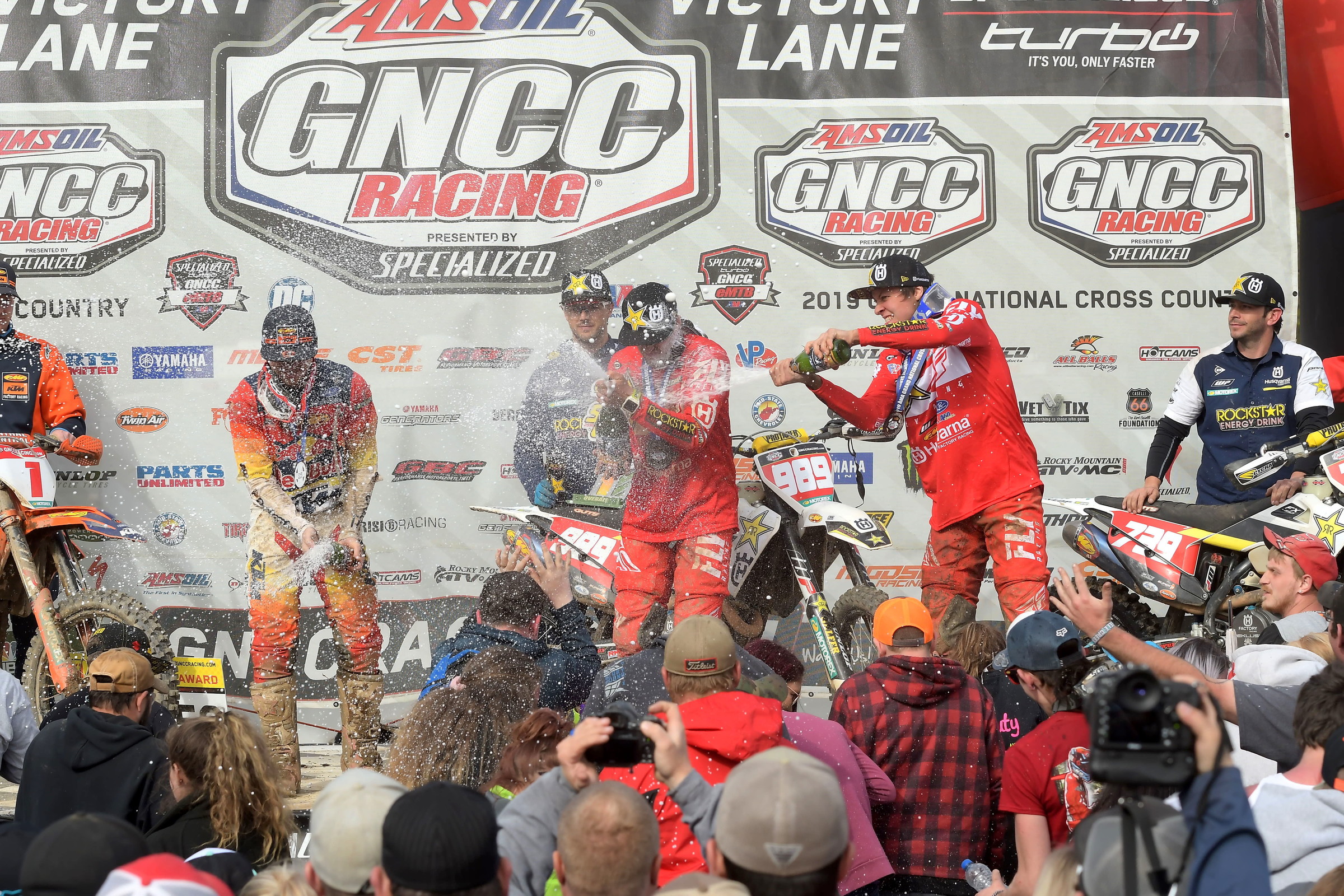 GNCC races use dead engine starts. What if I couldn't get the battery charged enough in two minutes to fire again? In GNCC, you're supposed to turn your engine off every time a class takes off, but my dual sport is so quiet I just left it on as each class took off, until it was finally our turn, and I turned it off, waiting for the green flag and hoping beyond hope the battery would have enough juice to fire. Tennnnnnnnnnnnn seconds…. and boom! We have ignition!
Normally, it's a good idea to walk the first few turns of the track, but I obviously didn't have time for that. I did hear track announcer Rodney Tomblin mentioning mud in the first turn. I didn't know where to go, anyway, so I Just ducked my visor to shield my goggles and hoped for the best. I made it through and we were into the woods.
At least year's race, I got a second-place start and got stuck in a mud hole one minute later. This year I started mid pack, but there were no mud holes. Also, for the first time in my GNCC life, I made it through the entire first lap without crashing. No matter what, I always blow my hopes and dreams with first lap chaos, and never really get to "battle" anyone in my class. This time I kept it up, and it's so fun to actually duel with dudes (pro tip: each GNCC class gets a helmet sticker with a color code. My class was tan. Anyone with a tan sticker is in my class. So we'd battle through other classes while battling each other. It was fun as hell.).
I caught a tan-helmet guy on a Yamaha. It was ON! I was working outsides and insides trying to get him, while also not going way into the bush and risking a crash. Passing in a GNCC is like passing on a two-lane country road—it's always comes with risk. I followed Yamaha guy forever, couldn't get him, then he'd get through the back markers of another class, pull away while I passed those guys, then he would get stuck behind someone slow again and I would catch back up. I chased him for an entire lap. Lap one, I sat in seventh place in my class. By the way, I'm old enough to be in a Senior class now? Come on!
Lap two, I'm still in seventh. We get to sand whoops. Yamaha dude is going one speed, and, I feel like I can comfortably go faster! So I upshift, actually wheelie like one whoop and MAKE THE PASS! I'm freaking on drugs at this point. I am so high on life, and you know, I have an orange front fender so really is there any difference between my pass and Jeffrey Herlings at Lommel? Right? Now I'm fired up so I really start pushing hard and spot another tan helmet up ahead. Oh my, I'm going for fifth place! But, you know, at this level, the sharp, elite end of the Senior C 40+ pack, it gets intense. An uphill emerges with two lines. The guy in front of me goes left so I go right, and we have an NHRA drag race up the hill, wide open in, um, probably second gear. But it sounded intense!
Near the top, I think I might have the edge to make the pass, but a slower rider looms. I am not going to slow down, so I dart left and kind of go, well, under his bars? We clip, he looks over at me and starts screaming all sorts of obscenities, and loud enough for me to hear it over wide-open second gear. Like, full on eff bombs, multiple per sentence.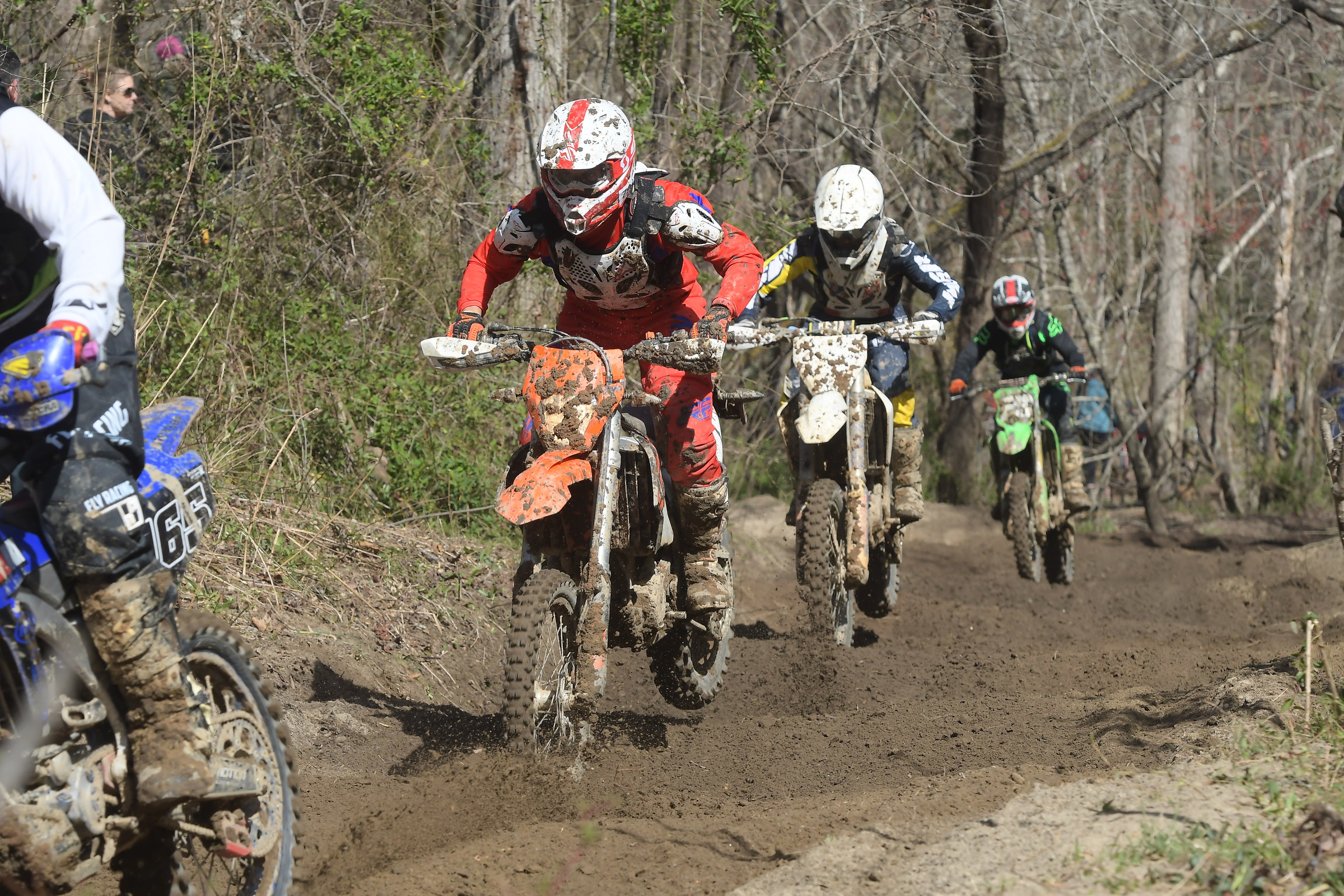 Whatever, bro, I'm here to race!!! I'm a racer!!! I've got to go!!!
Like Cooper Webb on Marvin Musquin 12 hours earlier, my aggression paid off. After blowing by the foul-mouthed guy in another class, I made the pass on tan helmet at the top of the hill. I've now battled my way to fifth place. Drugs! High! There is no feeling like this and now it's time to put the hammer down and sprint away. That's what racers do, people. We drop hammers! We put hammers down!
We make it through the ups and downs on one side of the track, and I'm feeling good, until a deep set of mud ruts at the bottom. For some dumb reason I decide to sit down through here like a dork, and I crash. Remember what I said about this track never giving you the chance to chill. There it is. You fight for 20 minutes to pass a dude, dork out for 3 seconds in a rut and give it all back. Of course like seven bikes shoot past me, including the two tan helmet guys I passed in. Back to work. I get Yamaha guy back, then I screw up passing another guy, he passes me back, then he almost goes down and I repass him, dude this is so much fun. Late in the lap, we're down riding through Steele Creek itself and I tag a rock and crash bad. Like, this is an absolute face plant, enough to crack my visor and also somehow injure my nose. I've never crashed straight onto my freaking nose before. Have you? That's really hard to do. Then later in the lap I crash again, straight onto my face again. What is going on!?!? Oh, then I'm trying to get inside of Yamaha tan helmet in a corner, but the dirt on the inside of the corner is really polished and slick, and I tuck the front end and go down. (Big thanks to my friends at Fly Racing for sending me a brand-new F2 Carbon helmet but I will need another one because it took some hard hits.)
After all the crashing and battling, I end lap two still in sixth. My goal is to finish in the top third of my class and get a plaque. I see the two laps to go card, but I will likely get lapped (by the faster overall riders in the amateur race, the Women's class. Yup) and only have one lap to go. That's okay because I'm starting to get tired. And the track is way rougher now. I make it all the way around with fewer crashes, though, and get the white flag. Dammit, I wanted to get lapped! I wanted to be done! I've done three 30-minute laps now and I'm really tired. So, for this last lap, I'm going to have to really cruise. I go slowly and WHAM!!! Some dude completely nails me from behind and I go flying straight into a tree. I'm not injured although I can tell that, had I hit the ground .000003 percent harder my shoulder would have given out. I can feel the tweak but not an injury. But my bike. My bike! Headlight is smashed—whatever—but my front brake lever is now pointing straight up. I try to shove it back down but it won't budge. Hey, remember my rudimentary mechanic skills? I don't have that magic "tight enough not to move, loose enough to be moved" feel like most do with their levers. So now I have to ride this last lap, tired as hell, without really being able to reach the front brake, so I have to ride slow as hell in case I'm heading toward a tree and can only use the rear brake to stop.
I finally hit an open section that riders use to pit. I pull over and ask if anyone has an 8mm t-handle to adjust my lever. Somehow, all these dads are standing on the side of the track with gas cans but no tools. What? I stop and ask three guys, no tools, each of them. Finally, halfway through this struggle lap, the fourth guy I ask fixes it. Also my throttle, which has rotated, I think. I dunno. The bike feels better and I can start riding normal again but I'm tired as hell and just done. Like, in a weird way. I'm not winded, I'm not sore, I just… don't have any energy. I don't have any fight or punch or intensity or whatever. All of that battling from early in the race feels like a year ago. As an example, at the end of the first lap, I was trying to pass dudes in bunches and even rammed a guy from the inside. On the same section at the end of the race, I'm cruising so slowly and getting passed by people.
Mercilessly, I finish lap four (I did get lapped, finally, the fastest riders did five laps), my final lap being a whopping 11 MINUTES slower than the previous two. And I finished 12th (later upgraded to 11th after results were adjusted. I think someone's transponder messed up).
Top seven in my class got a plaque—I needed to finish seventh or better and I was there until I got stupid tired. I'm pissed but also proud. Just doing laps on these tracks was once my goal, now I've progressed to where I can actually feel like I'm racing.
There's no feeling in the world that can match it.