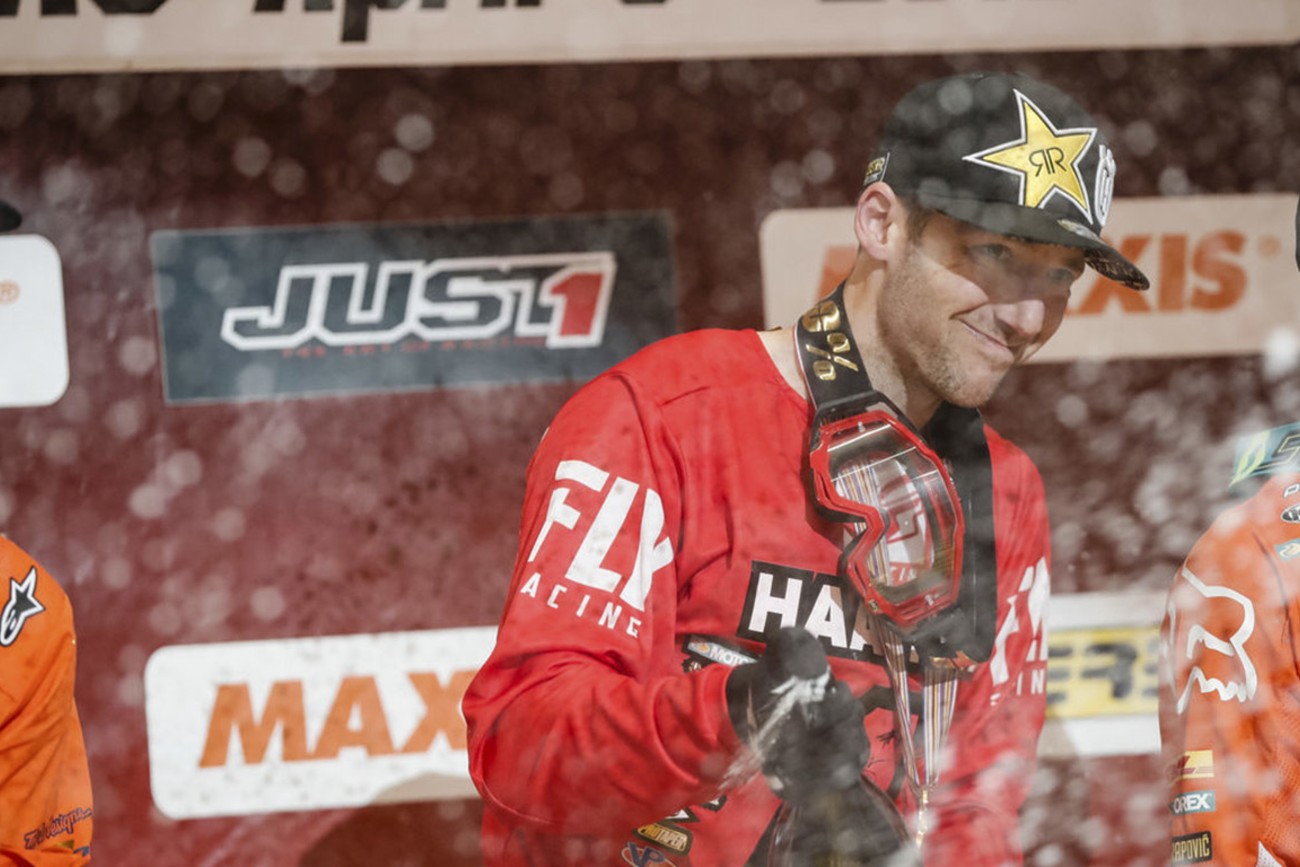 Features
SuperEnduro's Super Team Tactics: Title Ends In Controversy
The final round of the 2019 FIM SuperEnduro World Championship ended in controversy after Rockstar Energy Husqvarna's Alfredo Gomez pulled over—and pushed another rider wide—in the final corner of the third and final main event, which allowed his teammate, Colton Haaker, to make the passes needed to secure the championship.
Entering the weekend, Haaker held a 12-point lead in the standings over fellow American Cody Webb. In the first race, Webb took the win, while Haaker finished third. This saw Haaker's lead cut to six, as the championship awards points for super pole, which Webb won, and 20 points for first, 17 for second, 15 for third, 13 for fourth, 11 for fifth, nine for sixth, and then a deduction of one point for each position after.
Haaker rebounded to win the second main event, which uses a reversed start grid based on results from the first race. Webb managed to finish in second, which saw Haaker's lead expand back to nine for the final main. In the final main, Haaker made multiple mistakes while Webb took off for the win. With Webb's win, Haaker had to finish fourth or better to capture the title. As he came down to the finish line, Gomez blocked Pol Tarres, which allowed Haaker, who crashed over the finish line, to finish third and capture his third world title.
By the way, we have no idea what was going on with Haaker at the finish, he endoed over the jump and looked to be in no condition afterwards. Eventually, he picked himself up and Gomez celebrated with his teammate. Or, as the series' press release stated: "In a final shocking twist, Haaker suffered a huge crash over the finish line and lost consciousness, waking up to find his team around him, congratulating him."
Webb was visibly upset and threw some gestures toward his rivals. You can watch his reaction below:
Gomez, who was later disqualified for the move, wrote the following on Instagram after the race:
"SOMETIMES RACES/CHAMPIONSHIPS ARE WON AS A TEAM EFFORT AND TODAY WAS LIKE THIS, SORRY FOR THE MESS WITH SOME GUYS BUT THE GOAL WAS THAT HUSQVARNA AND COLTON WON A CHAMPIONSHIP AND WE MADE IT!"
Said Haaker in the series' PR: "In the last race I gave my all and I had some help from my teammate too. I started to fall apart a bit with arm pump, but I knew I had to win that second race, or at least finish ahead of Cody. I got a bit too comfortable and made too many mistakes, but I'm here now as the champion and it feels good."
Webb said: "I didn't feel that I had the title until the last lap. Then I started to celebrate it, I thought I had won. But I suddenly saw Alfredo Gomez and I realised what had happened. Colton and I always seem to end up having wild battles until the end of the season and this year has been another good fight. I've recently had arm surgery and tonight has been really difficult."
Highlights of the final race start at 3:33:
And you thought Marvin Musquin moving over for Ryan Dungey was controversial.