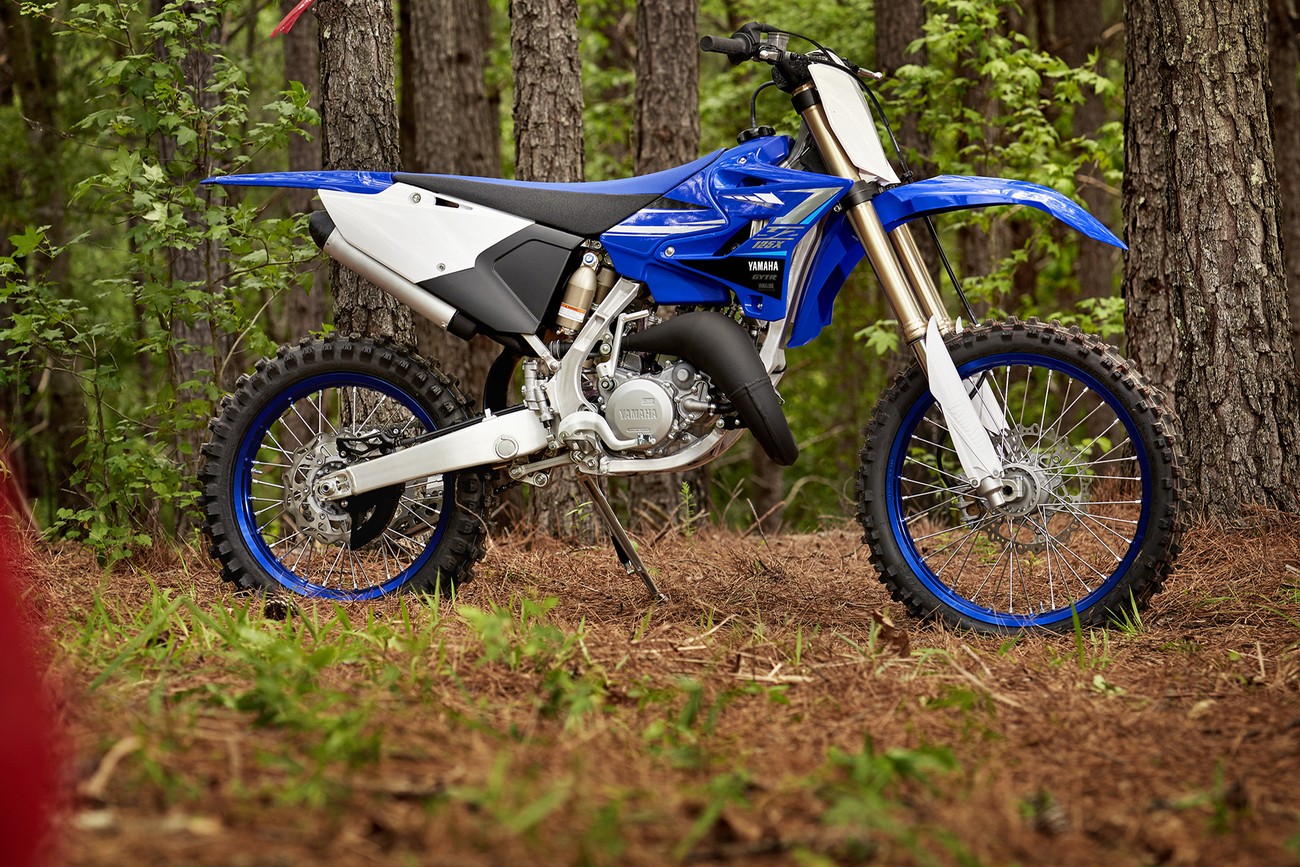 Features
Yamaha's New 125!
Even if you're not a woodsman (or woodswoman) you can thank the off-road sector of the market for keeping the flame alive for two-strokes. A few years back, Yamaha pumped life into the venerable YZ250 two-stroke with a cross-country model named the YZ250X, and we've ridden it, and it's awesome. You get the classic YZ250 power and feel but a few key refinements with engine internals, gear ratios, suspension settings and off-road equipment. Last year Yamaha invited me to its cross country intro and while the four-stroke YZ250FX and YZ450FX might have been fast, the two-stroke felt like a mountain bike in comparison and was really fun in the ruts and tight stuff.
Yamaha has expanded its cross-country lineup for 2020 with a new YZ125X. Here's info from a Yamaha PR:
Designed to be the perfect step up to a full-size cross-country machine, this lightweight two-stroke is the pinnacle of performance on the racecourse.
An all-new model for 2020, the Yamaha YZ125X is optimized for the unique demands of Hare Scrambles and GNCC racing. It sports Yamaha's Power Valve System-equipped (YPVS™) 125cc, liquid-cooled, two-stroke, reed-valve-inducted engine, combined with a six-speed transmission tuned for smooth, wide, and controllable power character across the rev range. This backwoods racer is built on an ultra-lightweight aluminum frame carefully engineered for the perfect balance of rigidity and flex.
Cross-country performance of the YZ125X is optimized with model specific digital CDI ignition settings, new power valve shape, open timing, open duration, as well as a new cylinder head combustion chamber shape, all of which are focused on creating broad power delivery that suits off-road terrain and a wide range of rider skill levels.
The 2020 YZ125X is further equipped to endure the punishing terrain of cross-country racing with durability and comfort-enhancing features including a sealed O-ring chain, a standard side stand, and fuel tank petcock with reserve position. Fully adjustable, industry-leading KYB® speed-sensitive spring-type suspension has been tested and tuned specifically for the needs of cross-country racers. Enduro-specific Dunlop® Geomax AT81 tires with an 18-inch rear are ready to head straight to the races thanks to taller sidewalls for improved comfort and reduced pinch flats. A large 270mm front disc brake coupled with high-performance pad material offers outstanding machine control and performance, with exceptional stopping power and controllability for tight wooded trails.
Obviously, it's exciting when any of the Japanese brands puts some R&D money into two-strokes. Yamaha has never made a full off-road focused version of the latest YZ125 two-stroke before (maybe so old school guy will tell me about a 1970s DT two-stroke or something, but I'm talking modern YZ with the same exact technology for off-road racing), so it will be interesting to see how well this plan is executed. You need tractable, low-end power sometimes off road, and 125s aren't known for that. Hopefully all of those engine changes listed above makes the bike both easy to ride, but still snappy and revvy like 125s need to be.
If Yamaha nails it, this bike will be amazingly fun to ride and also serve as a great transition bike for kids moving out of minicycles.
On the four-stroke front, the YZ250FX has been redesigned this year, matching last year's revamp of the YZ250F motocrosser, and the redesign of its bigger cross-country brother, the YZ450FX. At last year's cross country intro, I actually liked the new 450FX better than the old 250FX, because the newer Yamaha chassis feels slimmer, lighter, and more refined, even in a 450 package. Combine the new chassis with the smaller 250 engine and you might have one amazing bike.
The new 250FX also gets use of Yamaha's Power Tuner App, which was actually useable and noticeable even for a novice racer and technological doofus like myself.
Here's info from Yamaha's PR. For more info, I invite Yamaha to ship a fleet of new bikes to my house and I'll be glad to do some "work."
This cross-country racer has all the features to win including the smartphone power tuner app that adjusts the bikes settings to your style and the track.
The 2020 YZ250FX is an out-of-the-box Hare Scrambles and GNCC competition machine. Based on the championship-winning 2019 YZ250F, it features Yamaha's revolutionary front-intake, rear-exhaust, liquid-cooled, DOHC four-stroke power plant with an added sixth gear, wide ratio transmission, and a range of cross-country upgrades. Yamaha's latest generation, aluminum bilateral beam frame delivers strength, lightness and durability for the tight, technical terrain of cross-country racing while still providing optimum stability in fast sections. The bike also features improved electronics including a compact, center mounted electric start system powered by an ultra-lightweight, four-cell, lithium-ion battery to minimize restart delays mid-race and add convenience everywhere else.
All-new bodywork on the YZ250FX is slimmer than ever, giving the bike a compact, nimble feel and easing rider movement across the machine in tough terrain. Fully adjustable, industry-favorite KYB suspension is specifically tuned for off-road racing and combined with Dunlop MX3S tires with 18-inch rear to deliver excellent comfort and durability in harsh conditions. Additionally, the YZ250FX is equipped with performance and convenience including four-position rubber-mounted handlebar clamps, a side-stand, wireless connectivity with the Yamaha Power Tuner App, and new for 2020, a handlebar-mounted map switch to adjust preselected engine maps on the fly.
The 2020 YZ250FX will be available from dealers in September in Team Yamaha Blue for $8,499 MSRP.
---
All images courtesy of Yamaha