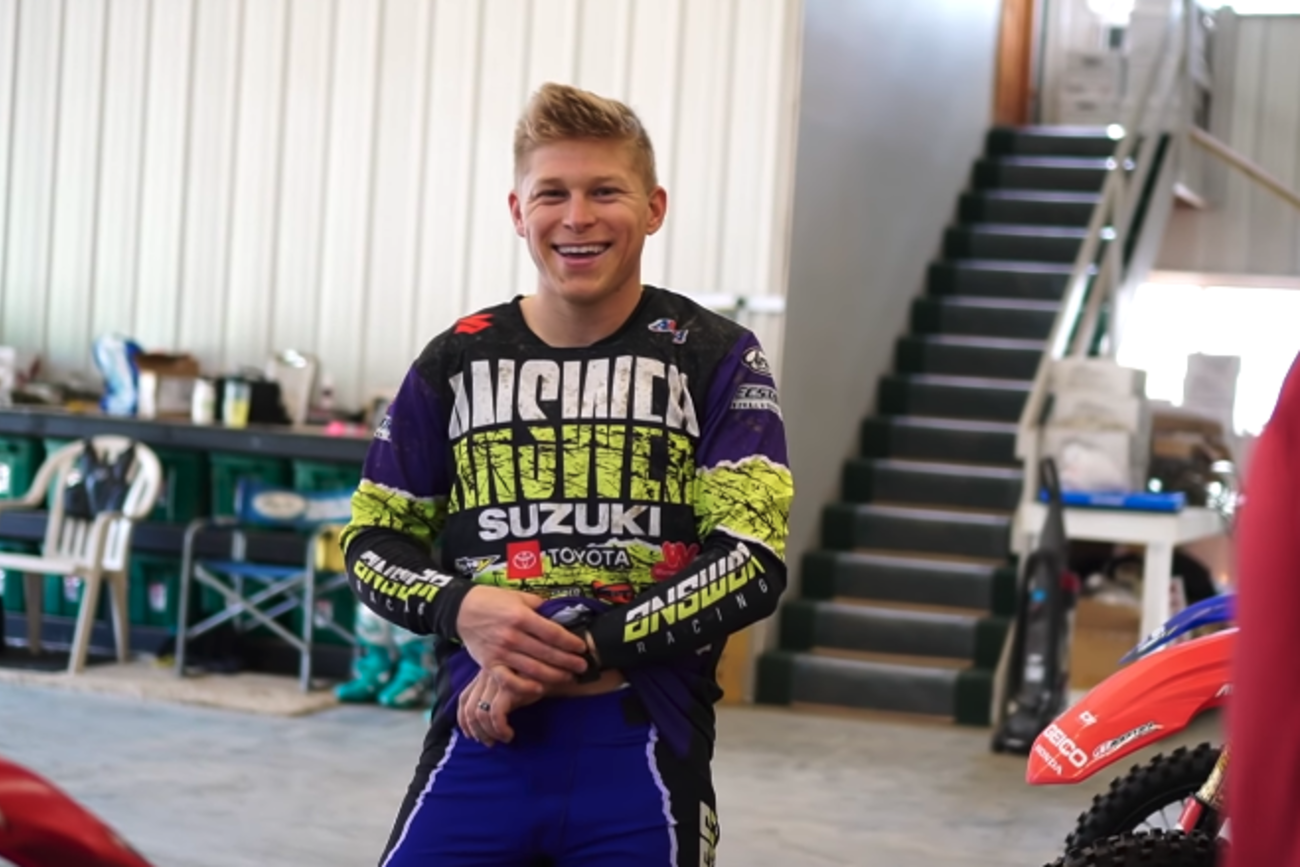 Features
Watch: Alex "Troll Train" and Jeremy Martin Race Locally at Millville
Brothers Alex "Troll Train" and Jeremy Martin have returned to Millville, Minnesota, for family time and local racing. A-Mart and his cameraman filmed it all in the two latest "Troll Train" vlogs.
The vlog starts off as A-Mart reminisces on the old days as a wee lad in Minnesota. He recalls the time he got his driver's license and took his mom's Chevy Suburban over this one section of road with a hump trying to get some air.
"I'm pretty sure you have to hit this thing a hundred or faster to get some air," he says, confirming he was never able to do so himself.
Alex arrives at Spring Creek MX Park—the track their family owns—and he joins Jeremy, who is jamming to some Nicki Minaj and "Down In the DM" by Yo Gotti before the morning practice.
"Dude, some of the guys out there, oh my god," Troll Train jokes after the practice session. "Did you see that? I was like, I'm gonna count to ten, this guy is going to be on the ground by the time I get to ten."
Jeremy starts prepping his goggles and we get our first glimpse at the crap talking. Alex tells Jeremy to put on all of the tear-offs he has with him.
"You could damn well be sure you'll use all seven of those if you're behind me," he says.
Jeremy then proceeds to the restroom, where he tells the cameraman: "You aren't allowed in here, I'm going to take a Mirtl." (Possibly a shot at his former agent Lucas Mirtl but hey that's just my guess.)
Then the two brothers continue to talk more crap—literally—even bringing "Filthy" Phil Nicoletti's name up with a quick story about the time Alex tricked him into drinking three tea bags of detox tea.
"I make him two [more] teabags and for me, this is like game over, my stomach is hurting, whatever," Alex said. "So like the next day he wakes up and he's like, 'Dude, I don't know what's going on but my stomach is killing me,' and like the whole day he was just like aching and moaning about his stomachache basically. It was hilarious because I basically made the tea extra, extra strong. I love it."
Shockingly, when the gate drops for the first 250 A moto, it's the two Martin brothers out front. Upon the two returning to the garage after the moto (Jeremy won), more crap talk and joking continues.
"Hey, halfway down the start straight, I got out and I look over, Alex got out and we both f*****g made eye contact halfway down," J-Mart said with a laugh. "I saw him and I pushed further back on the back of the seat and tried to click a gear and I was like You're not getting me mother****r!"
"Come on, RM-Army, don't let me down!" Alex butted in, joked about trying to outrun little bro.
Before long, Alex poaches Jeremy's sesame honey cashews as Jeremy is signing a pair of goggles for a young fan.
The two went back and fourth all day long (both on and off the track), especially in the last moto as they fought for the win through its entirety. Jeremy took the win in all four motos as Alex finished second each race.
Watch the day one vlog below:
The next day, both Alex (30) and Jeremy (27) complain of being sore and tired.
"Where's that Ibuprofen at? We got extra strength?" Alex says after the first moto.
The crap talking continues, as does the battling on the track.
Some young fans tell Alex he needs to holeshot and outrun Jeremy—which has been his plan all along, he just has not been able to accomplish it. Alex also jokes he's going to T-bone Jeremy. By the end of the day, Alex said he wasn't even able to get close enough to put a dent into Jeremy's GEICO Honda. Jeremy took all eight moto wins as Alex took second each race.
"You little f****r," Alex says.
Watch the day two vlog below: