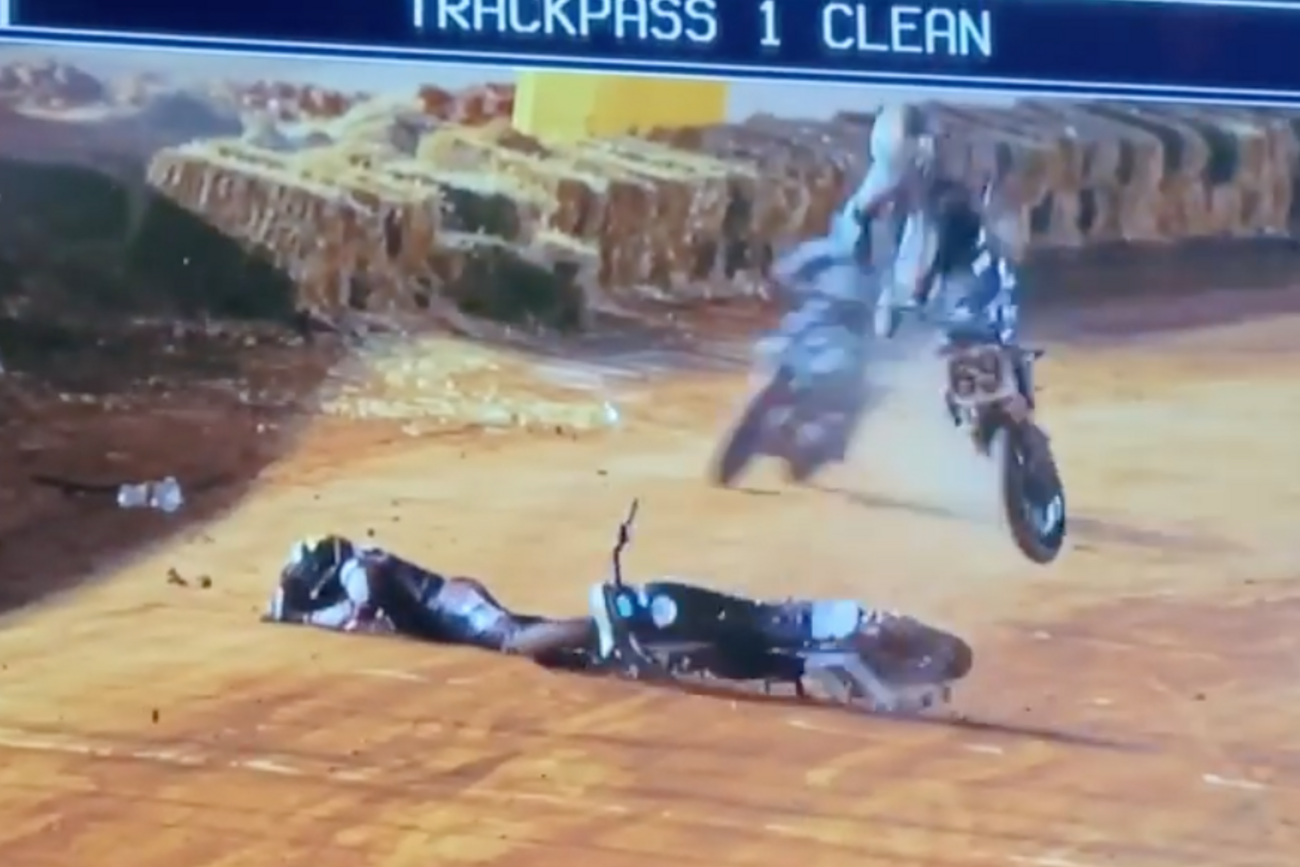 Features
Watch: Briar Bauman's Crash That Accidentally Launched Sammy Halbert Into Orbit
I'm going to start with this: both of these riders are okay!
At the Progressive American Flat Track finale Charlotte Half-Mile in Charlotte Motor Speedway, the AFT SuperTwins championship came down to a winner-take-all situation. Points leader Jared Mees entered the final round with a slim four-point lead over two-time champion Briar Bauman, so the winner of the half-mile would claim the title. The event was supposed to take place on Friday but rain bumped the event to Saturday.
Late in the main event, Bauman was leading and it appeared he would have enough to hold off Mees to claim his third straight premier class title. Then, Bauman had a slip up that went sideways quickly. His tires caught a section of slick surface then grabbed a dry section, shooting him towards the outside wall, catching the corner of hay bales as he slammed down onto the track. Mees, running second, snuck past the downed Bauman and his bike to take over the lead, but Sammy Halbert was not as fortunate.
Bauman's #1 Indian motorcycle bounced from the wall into the middle of the track as Halbert was exiting out of the turn. Halbert had nowhere to go and ran directly into Bauman's bike, launching the #69 and his bike into the air before they slammed down hard separately. The crash looked like something out of a movie!
Bauman was able to walk away under his own power and then tried to lineup in the restart on his backup bike! The crash left him too banged up to finish though, as he pulled into the pits.
Luckily, Halbert escaped with only a few broken bones (arm and leg) and a cut on his eyelid that required stitches.
Warning, viewer discretion is advised.
Our man Jason Weigandt, who is a part of the TV broadcast announcing crew, hosted the banquet after the finale and said that Halbert even checked out of the hospital and showed up to the banquet in a wheelchair! You can tune into NBC Sports Network on Saturday, October 16 at 7 p.m. ET to watch full coverage of the event.