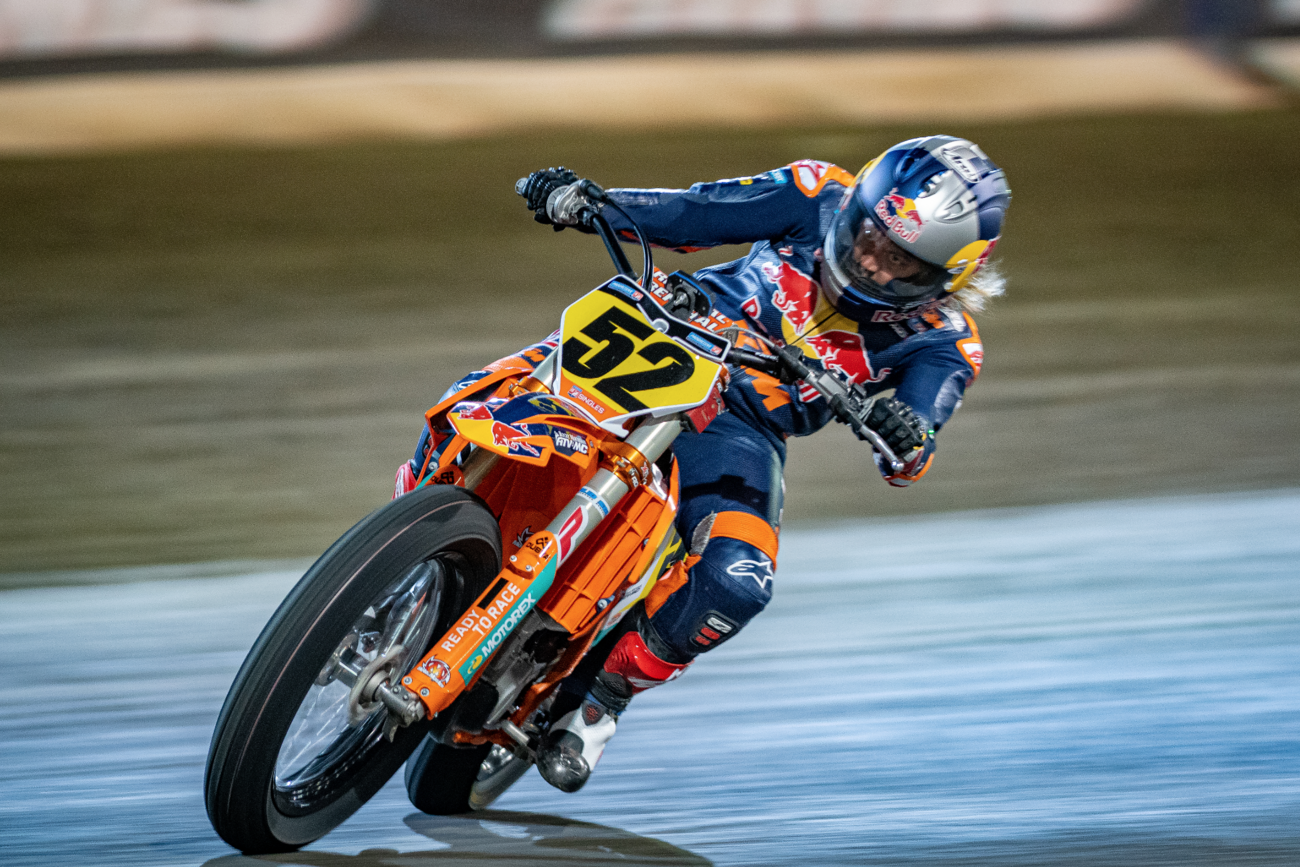 Features
Red Bull KTM Thanks Shayna Texter-Bauman For A Successful Run Together In AFT Singles Racing
After three seasons together, Red Bull KTM has thanked Shayna Texter-Bauman for their run together in the AFT Singles class of Progressive American Flat Track. In their time together, Texter-Bauman scored five AFT singles main event wins—including the maiden Red Bull KTM AFT Singles main event win—and ten total podiums.
With KTM and Texter-Bauman parting ways, it opens the question to what's next. Red Bull KTM will keep on racing, as Max Whale has signed a contract extension. As for Texter-Bauman, we believe a new deal with a new team will be announced soon.
Below is the full press release from KTM:
MURRIETA, California—After three successful years with the Red Bull KTM Factory Racing team, KTM would like to thank Shayna Texter-Bauman for her hard work and dedication both on and off the motorcycle, and wish her the best as she heads into a new chapter in her racing career.
Shayna joined the Red Bull KTM Factory Racing flat track team in its inaugural year in 2019 and the Pennsylvania native was a driving force in the brand's exciting debut into the American Flat Track Series, right away delivering the team its first-ever AFT Singles win at the Texas Half-Mile. As a fixture in American dirt track racing, Texter-Bauman still holds on as the winningest AFT Singles rider in series history with 19 total Main Event wins, scoring five of those wins aboard the KTM 450 SX-F Factory Edition. In addition to her triumphs in the center of the podium, Shayna also amassed 10 podium finishes in her three-year tenure with the team.
Shayna Texter-Bauman: "Riding for the Red Bull KTM Factory Racing team was a dream opportunity. I will never forget the first day I hopped on the factory KTM 450 SX-F Factory Edition and the excitement I felt from Chris, Roger [De Coster] and Ian [Harrison]. It makes me proud to have delivered the first of many wins for the Red Bull KTM flat track program. Thank you to the entire team and supporters for believing in me! A special thank you to my mechanic Justin for all of his hard work in making sure my bikes looked unreal every time I rode. I'm looking forward to seeing my friends from KTM at the races next season and wish them continued success."
Chris Fillmore: "KTM made the commitment to enter American Flat Track racing in 2019 and Shayna put her trust into us, working alongside our crew to build a new team and program from the ground up. We're grateful to have worked alongside her over the last three seasons, watching her grow and succeed in the AFT Singles class. We wish her the best in future endeavors."
---
Main image courtesy of American Flat Track